What kind of office/industrial space does my company need?
This post originally appeared on the Waterloo EDC website as part of their "Guide to Foreign Business Expansion" series tackling the 12 questions every business needs to ask. Download the full guide now.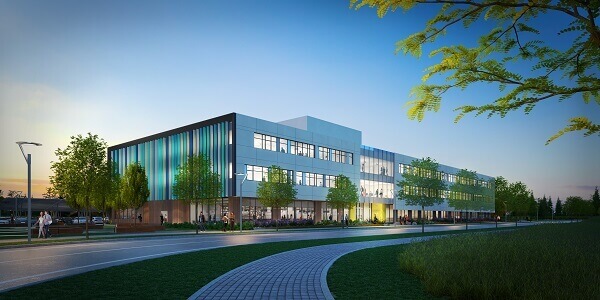 A major step to consider when developing an expansion strategy is assessing the size and type of work/office/industrial space needed. Remember, not every expansion requires the creation of a full-scale office or manufacturing facility. Many expansions begin small and grow, or are purposefully kept small to take advantage of a unique quality of the new location (access to specialized research, for example).
Before choosing a space, you should answer the following questions:
What timeline do I have for expansion?
What is the optimal size of my new team?
How much space do I need to start with?
What kind of culture do I want my new office to embody?
It is important to find a space that best suits your team, culture and needs.
RELATED: How to locate in Waterloo's tech-centric research park
Here are a few types of spaces that are commonly available:
Co-working space
These spaces provide the flexibility of scaling at your own pace, while having your team work alongside other like-minded individuals in the ecosystem.
Innovation lab
These spaces are great if your company has an idea that they want to explore outside of their corporate headquarters. In Waterloo, Communitech's Innovation Alley offers a dynamic space where companies work collaboratively to develop game-changing ideas.
Research facility
A space to leverage research institutes and researchers to help advance your company's technology and research, these facilities are often located adjacent to a university or college.
Prototyping lab
For hardware and manufacturing companies looking to create or innovate their product line(s) on a smaller scale than full production, these spaces provide support for developing prototypes and/or the space necessary to develop manufacturing capacity for producing small quantities of product.
Tech office
A large office that serves as a major tech development group for the central company, this type of office usually has 50+ employees and works out of a dedicated office space.
Full-scale manufacturing/office expansion
A full subsidiary with all of the functions of the company's headquarters – marketing, sales, etc. – and/or a large manufacturing facility with primary responsibility for a product line, this is a much larger expansion than the other options presented.
With years of experience in helping companies land in our community, Waterloo EDC and R+T Park are well-equipped to help your company identify the type of workspace you need and find a corresponding space in Waterloo.
For more information about R+T Park and the Waterloo community, get in touch!