R+T Park partners with AirMatrix, bringing innovation to new heights
By Veronica Alonso
Collaboration is the latest "living lab" initiative in R+T Park, allowing industry partners to leverage the Park and drive innovation
The David Johnston Research + Technology Park is excited to announce a new collaboration with AirMatrix, a Toronto-based startup that develops and maps 3D navigational networks for autonomous drone use.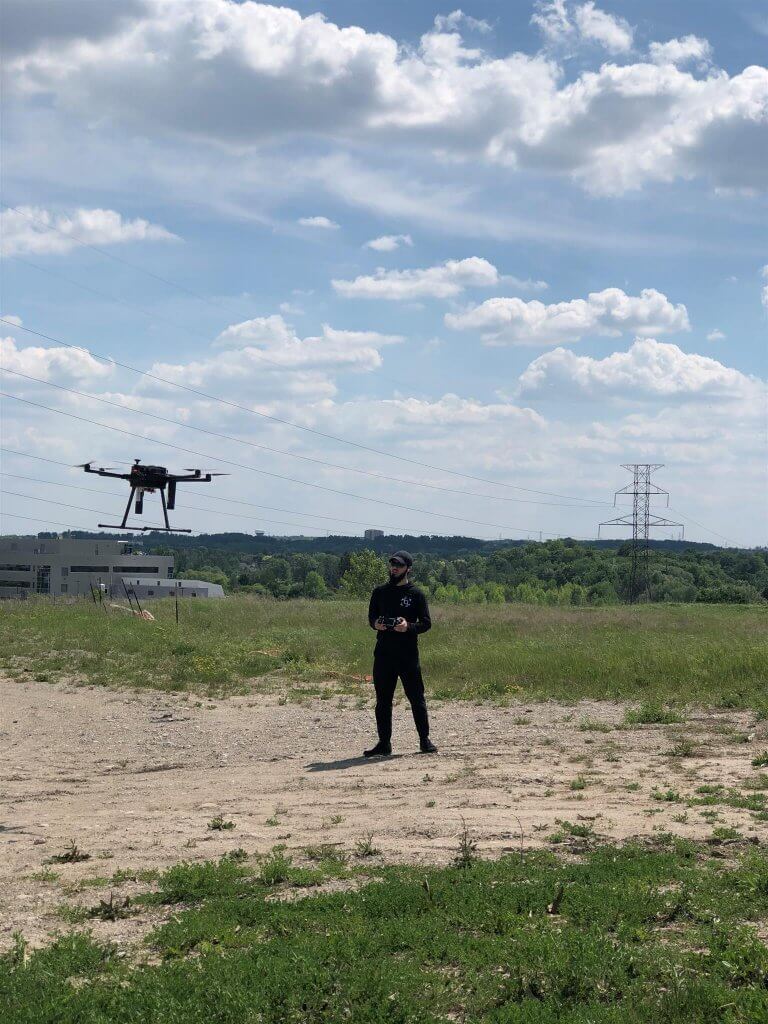 AirMatrix, which has already been doing work with the Region of Waterloo, is looking to bring the drone industry to new heights by ensuring the enhancement of safety and the creation of new standards for drone pathways in the sky. They develop multi-layered grid systems in the air for use in high-density cities, integrating traffic management software that ensures accuracy and efficiency. Over a two-month period they will be conducting R&D related test flights in the North-West section of R+T Park. The pilot program plans to involve around 100 flights, including simulations, that will take place from June to July, with the potential for possible extensions into the fall based on success and approvals from the University of Waterloo. Their work will contribute to informing the use and regulation of drones for communities, enterprises, and local government. They will also be taking the opportunity to connect and potentially collaborate with researchers in Systems Design, Electrical and Computer Engineering at the University of Waterloo. The drones will not operate near roads, sidewalks, residential areas, or buildings, nor will recording be permitted.
Shayaan Haider, Airmatrix co-founder, says "we hope to test the robustness of our platform as well as bring on partners to this really cool site." In his eyes, "the end goal is to bring on more municipalities to come on trial basis with us as we provide regulatory supported drone use cases in their regions. The city of Waterloo has been an early adopter and we hope to extend our services in the region."
You might also like: How eleven-x is Building the Connected Future
"R+T Park is proud to continue to work with cutting edge companies like AirMatrix that are at the forefront of innovative research and development, and reflect the University of Waterloo's commitment to working with industry towards collaborative innovation," said Mike Pereira, Manager of R+T Park. "The University of Waterloo is one of the most innovative universities in Canada and is highly regarded for our approach to industry partnerships, so a collaboration like this is a natural fit."
This collaboration with AirMatrix builds on R+T Park's ongoing efforts to leverage our infrastructure and resources as a living laboratory for innovation, research, and development. Since 2018, the park has engaged in numerous living lab projects, which have supported the innovative collaboration of industry, academia, and government. These initiatives have included:
Canada's first eScooter pilot, a partnership with micro-mobility company Lime and the City of Waterloo to launch a fleet of electric scooters open for public use in Waterloo. This project opened the door for eScooter pilots and research across Canada, including a 5-year pilot study led by the Government of Ontario.

A long-term study of a buoyant affordable housing solution by University of Waterloo Architecture professor Elizabeth English. She is utilizing the Park's storm water management ponds for freeze-thaw condition testing of the test foundation.


The Viessmann Centre for Engagement and Research in Sustainability (VeRIS), has been conducting longitudinal behavioural research into sustainable workplace culture at the evolv1 building. Leveraging sensors from R+T Park tenant eleven-x, Dr. Manuel Reimer and his team are measuring air quality, water consumption, and waste management data, as well as people's movement and space usage patterns within the building.
R+T Park is excited to continue our drive for industry collaboration with this latest AirMatrix partnership, and we look forward to fostering an innovative culture through similar initiatives in the future.