How eleven-x is Building the Connected Future
Ryan Hickey on life after BlackBerry, the company's time at the AC, and powering a living lab in R+T Park
There's always something interesting to see when you're walking the paths and trails that connect through the David Johnston Research + Technology Park. Backing onto 250 acres of natural space, R+T Park is teaming with wildlife…and co-ops from the University of Waterloo.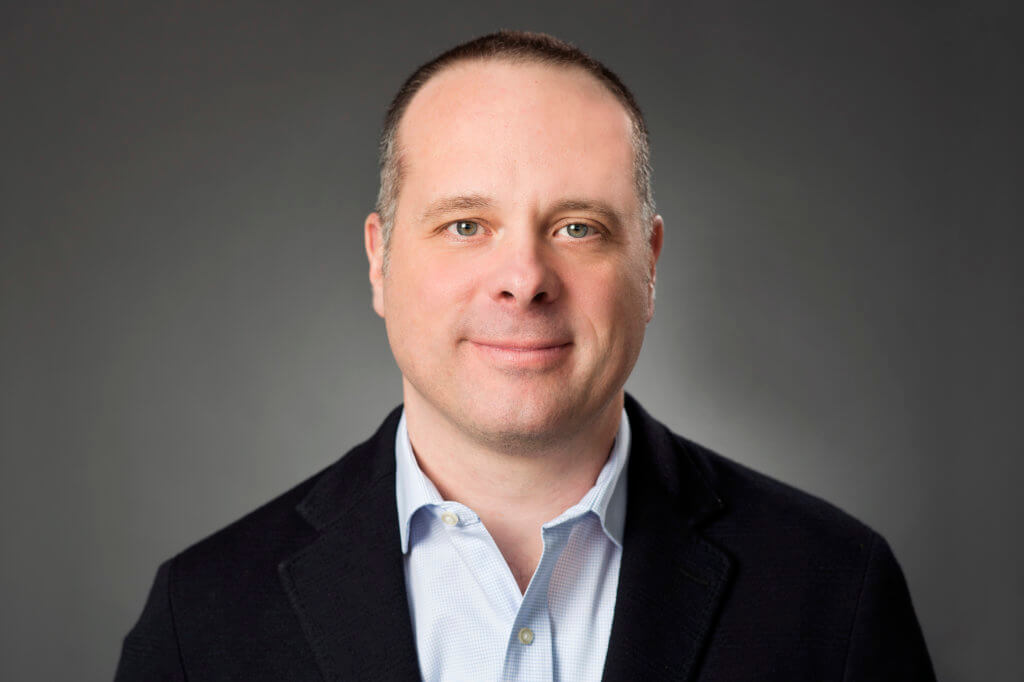 Having an office in R+T Park puts you on campus with the world's most recognized co-operative education program. It's this access to talent that attracted local IoT scale-up eleven-x to the park. Or we should say back to the park.
Like many of the startups and scale-ups throughout R+T Park and Waterloo Region, the eleven-x story begins with a group of friends who met working at BlackBerry. When they found themselves laid off during the smartphone company's decline, eleven-x Chief Operating Officer and co-founder Ryan Hickey and some of his former colleagues found a community ready to support them. "There was so much support for former BlackBerry staff here," said Hickey. "Myself and fellow co-founder, Fraser Gibbs, met our third co-founder, Dan Mathers, at a startup boot camp where the goal was to incubate some startups out of former BlackBerry employees."
BlackBerry had some of the best wireless technology engineers and designers in the world. Organizations such as Communitech and the Accelerator Centre wanted to make sure there was a way to keep that talent here in Waterloo Region. "We wanted to find a way to leverage the wireless design expertise we had and do something else," added Hickey.
The buzzword "internet of things" or IoT kept coming up as Hickey and the group looked into what they could do. "We did a lot of research and found a massive gap in the wireless tech space – especially for use cases where that demanded low battery power consumption," Hickey said.
Once the team found their niche, they applied and were accepted into the Accelerator Centre and participated in the AC JumpStart program. AC JumpStart offers startups a $30,000 grant, 12 months of mentorship, market research, and more to help accelerate their growth. We went into the Accelerator Centre and leveraged their amazing expertise and talents," said Hickey. "The Accelerator Centre is amazing in terms of our experience."
After graduating from the Accelerator Centre, eleven-x moved into their own space adjacent to R+T Park on Phillip Street. From their office on that busy startup street in Waterloo's Idea Quarter, eleven-x quickly made themselves known as experts in the design and installation of the low-power wide-area network technology known as LoRaWAN.
Hickey gave a recent example of how their business has continued to evolve. eleven-x is working with the City of Calgary to operate their LoRaWAN network. The city has been exploring the LoRaWAN technology and has deployed a few gateways to test use cases. "The City of Calgary is very experimental – they are ready to use the technology in many ways, which is a key ingredient for innovation," Hickey said.
One of the use cases was a problem the city was having with theft. Not just any theft, but theft of copper wiring from the city's light rail transit system. "Thieves were finding ways to get into the system to steal the grounding wire. It's a big problem – not just for cost, but for public safety," Hickey added.
The city had been looking for a solution that can help them right away – and eleven-x delivered. "We developed a battery-operated sensor that can discern between wildlife and a person who shouldn't be there." When the sensor detects a human being, it transmits to the network and alerts the authorities.
Hickey called this an example of the very out-of-the-box thinking eleven-x does. "We even did a lot of the development remotely," said Hickey. "The city sent us photos of the site and we designed the sensors." The best part – the sensor worked the first time it was used. It even worked through Calgary's notoriously frigid winters that can drop to temperatures of -40 Celcius.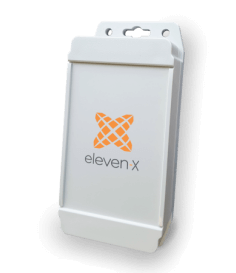 The eleven-x team considers themselves more of a solution provider than just a network operator like Bell, Rogers, or Telus. "We do more than networking. We design and manufacture the devices themselves. More than that, we handle the deployment, write the apps, and manage the cloud analytics."
Locally, you can find eleven-x solutions powering a research project led by the VERiS Institute out of Wilfrid Laurier University in collaboration with other research institutions, including University of Waterloo, inside evolv1. Targeting LEED Platinum the building is Canada's first certified zero-carbon building. "Take a building like evolv1 that is built to the highest standards of sustainability. How can we prove it's performing as designed," asked Hickey. "How can we further enhance sustainability?"
eleven-x sensors do more than monitor the building's energy usage. The system also monitors the energy usage of the building's tenants. Modern water meters monitor a buildings water usage – sometimes to the floor level usage. For eleven-x and the research team, this wasn't enough. "Our sensors monitor the water in the building's kitchens down to the waterline level – both hot and cold lines and where they run – sinks, dishwashers, water filters," said Hickey.
The system captures an amazing array of data on how people interact with the building. Sensors track stair and elevator usage to determine the effect on power consumption. Even the recycling and compost programs are monitored by sensors. "There are LoRaWAN-powered scales to determine how changes in people's behavior affect waste output."
eleven-x won't have far to go to check on their work at evolv1 starting this spring. The company is making the move back into R+T Park to 375 Hagey Blvd. alongside global software giant Agfa and another Accelerator Centre graduate SSIMWAVE. "I've spent almost my entire career within four blocks of R+T Park. We all consider this area of Waterloo to be home."
Why back to R+T Park? Hickey points out the value for money is higher than anywhere else in the area. "The quality of building for what you're paying is great. Everything is of high quality. Plus, being near the University of Waterloo is great. We always have three co-op students each term."
Hickey also said that parking played a major part in the decision – but not for the reason you'd think. "People want to be able to drive but there's another advantage to having access to a parking lot – testing. You'll often see a co-op or two driving over sensors in the parking lot."
eleven-x also wanted to accommodate people who don't drive. R+T Park's light rail transit station was a major draw – especially for Hickey who calls Downtown Kitchener home. "I just jump on the ION and I can be at work in twenty minutes," said Hickey.
"R+T Park is really symbolic of the industry we're in – and Waterloo Region," added Mark Hall, eleven-x's Head of Marketing. "We're in an innovative community that supports each other and R+T Park is a key player in this."