LoopX — Building better autonomous vehicles, one pizza at a time
Ideas come out of the lab and into the real world at the David Johnston Research + Technology Park. There's always something new happening, from testing drone routing systems to helping aviation companies improve their sustainability. Having the ability to run real-life experiments close to the University of Waterloo means access to talent, partners, and for the team at LoopX AI —close proximity to a large number of restaurants.
LoopX AI is reimagining the future of goods transportation by bringing affordable delivery services to homes and businesses. They have developed a safe and eco-friendly intelligent robot fleet and are currently testing the robots around R+T Park. Being close to University Plaza and its selection of restaurants is critical for the next phase of delivery testing across the University of Waterloo campus.
The startup is another example of research commercialization at the University. Chao Yu, founder and CEO of LoopX AI, is currently completing his Ph.D. in mechatronics, where his research focuses on learning-based control systems for autonomous vehicles. Before starting his Ph.D., Yu worked at General Motors in Shanghai, China and Detroit, Michigan for eight years before moving to Waterloo in 2020—just in time for the start of the COVID-19 pandemic.
"It was just the beginning of the pandemic, and because of the lockdown policy, I actually have to order takeout food every day because I was busy studying and researching and have no time to cook food. It was then that I noticed how expensive delivery was for the consumer and the restaurant," Yu said.
Yu saw an opportunity to use autonomous robots to replace the need for cars and human drivers while reducing the delivery fees restaurants were charged. He said the pandemic shift to delivery will be long-term as consumers now feel more comfortable and safe ordering delivery vs. picking up or eating at a restaurant.
During his market research phase, Yu found that several robot delivery services were available across China and parts of the United States. In Canada, there were no similar services, except for a remotely operated robot delivery service in Toronto, but he said that service is not autonomous like LoopX AI's fleet.
"I think that it does not make too much sense since it still needs one person to drive the robot. There's still a labor cost there. But using autonomous driving, we can significantly reduce the labor cost," Yu said.
As with any project in R+T Park, support from partners has helped LoopX AI bring its vision to reality. LoopX has recently joined the Accelerator Centre to help scale the business with mentorship and funding.
One of the most significant partnerships came from R+T Park partner Rogers. LoopX won the top prize in the 5G Transportation Challenge sponsored by Rogers and the Ontario Vehicle Innovation Network (OVIN) in June 2022. That win has allowed them to partner with Rogers and Amazon Web Services (AWS) to develop a 5G multi-access edge computing system (MEC) to power their autonomous delivery fleet.
Edge computing moves data collection and computing from data centres to where the action is happening. In the case of LoopX AI, the combination of Rogers 5G and the local AWS server system allows the robots to have fewer onboard computing demand. allowing them to have more robots on the road and provide lower delivery costs to restaurant partners.
LoopX AI robots use a hybrid drive system with three modes of operation: autonomous, teleoperation, and collaborative drive. Together, these three modes enable the robot fleet to operate in numerous conditions and navigate obstacle challenges on route.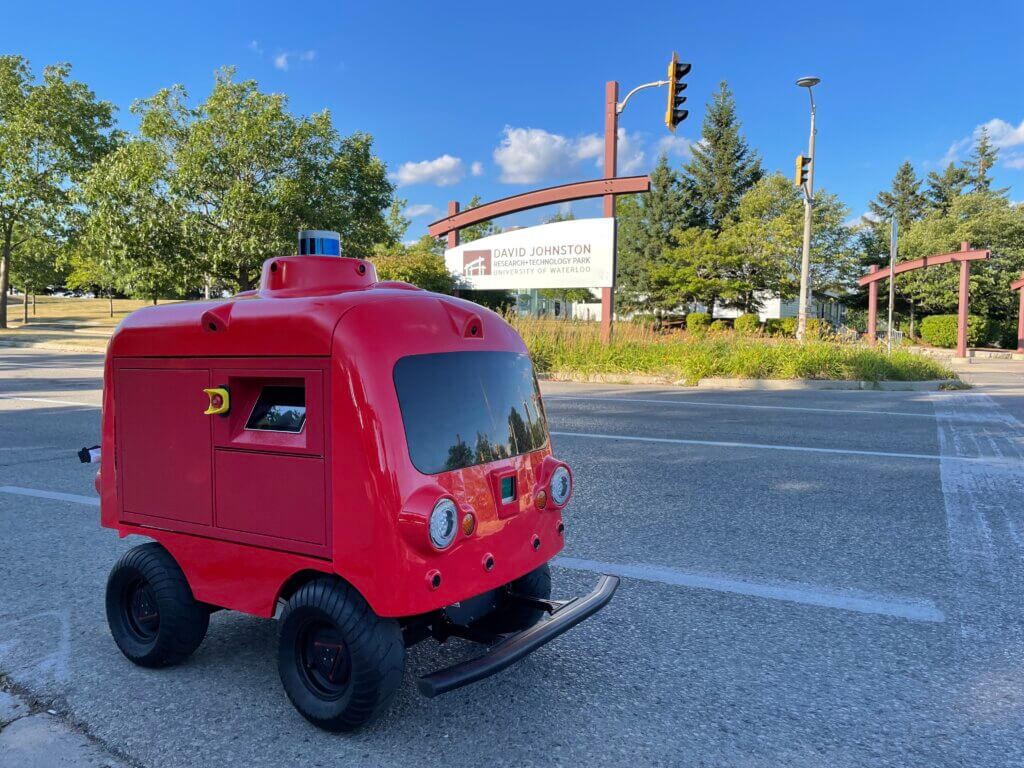 The robots use autonomous mode for the majority of their trips. If the robot encounters road construction or another unexpected scenario, so-called edge cases, a driver can take over to remotely operate the robot until the autonomous mode is possible again. The collaborative mode sets LoopX AI's fleet apart from other autonomous robots. Yu said that they can maximize their efficiency with their fleet of delivery robots. If one robot runs into an edge case, like a road blocked by construction or heavy snow, then it can alert the other robots through the 5G network and the MEC server, and they can avoid that and take another route.
"These are new techniques that we proposed in the 5G transportation challenge and R+T Park is the ideal place for us to do such a demonstration because it has Rogers 5G coverage and AWS can be used for our edge computing," Yu said.
LoopX AI is planning its pilot project to start in August with deliveries from restaurants in University Plaza to dorms and offices across the University campus and R+T Park. You can learn more about LoopX AI at loopx.ai.