Building a highway in the sky — from the ground up
By Veronica Alonso
"When it comes to innovation, it's just easy here." AirMatrix Co-founder Shayaan Haider on why Waterloo and R+T Park are the perfect place to support their growth.
As university students, Shayaan Haider and his twin brother Ayaan were not ones to fit into rigid formality. Being enrolled in the same program, Mechanical Engineering at the University of Toronto, their constant competition and drive for more led them to an idea that is now paving the way for innovative drone air infrastructure. Most recently, their latest partnership with the David Johnston Research + Technology Park has become an important part of their journey as a transformative cleantech startup. This partnership builds on R+T Park's living laboratory initiative, which allows industry partners to leverage the infrastructure and resources of the Park for innovation, research, and development.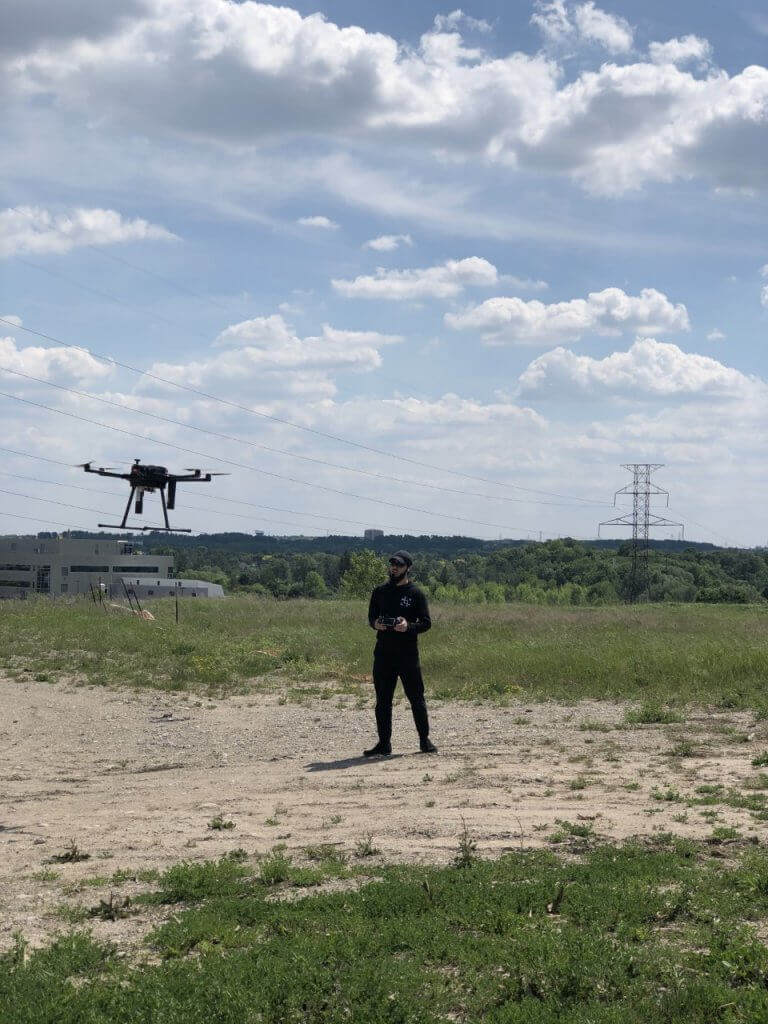 The Haiders graduated from university just last year, but they are already well on their way to making a significant impact in the tech world. During their time in school, they weren't interested in the traditional career path of finding a job post-graduation, waiting to dip into the startup world with years of experience later on. "I think it's the opposite – you can very much take risks at this point in your life," says Haider, noting he and his brother had "this attitude and drive of doing something different."
The Haider twins already shared a strong interest in drone technology, but it was their friend, and current co-founder, Bashir Khan, who proposed the idea of combining their shared passion with entrepreneurship. Haider recalls, "Bashir had this idea initially about doing something with drones, we saw the market, and we said, okay, the technology is there, so let's start with some small drone deliveries." Seeing the creative freedom that a startup would provide for them career-wise, the trio created AirMatrix.
They started out with a simple prototype for local drone delivery in Toronto, and as the brothers were still students at the time, they treated the initiative as a school project for the first six months. "We would give maybe a couple of hours on the weekend, we'd have some pizza, and it wasn't too serious until we found out more about the industry." As they became more familiar with the market, and Bashir graduated from university, they were able to support the company on a more full-time basis.
Related: R+T Park partners with AirMatrix, bringing innovation to new heights
At the time, they were thinking "we're in Toronto, we've got funding, we've got an idea, and so we really started to build the initial product. We hired three interns from the University of Waterloo and made our first workable prototype."
Since starting, AirMatrix has evolved into a startup that creates complex transportation infrastructure in the sky to map out drone flight paths allowing governments and businesses to manage drone activity while prioritizing safety and reducing risk. Their team includes the three co-founders, as well as a group of seven advisors across engineering, finance, and tech.
The startup has gauged interest from and possesses partnerships with MaRS, DMZ, Communitech, as well as other members of tech ecosystems that have been able to identify the interest and importance of such technologies and have contributed to building a network of support.
In October of 2020, the company built a consortium in the Region of Waterloo, partnering with organizations such as the University of Waterloo's School of Pharmacy and Rogers, to use their controlled air space for testing. The collaboration with R+T Park builds on these efforts, fostering collaboration between academia, government and industry to spur innovation in aerospace technologies.
The idea is: go map cities, build the software, provide the traffic management system to operators who are going to be doing this in the future, and hand off all of this to a city to manage.

Shayaan Haider, Co-founder, AirMatrix
For Haider and the AirMatrix team, "the idea is: go map cities, build the software, provide the traffic management system to operators who are going to be doing this in the future, and hand off all of this to a city to manage." Their aim is to support the collaboration between cities and private operators by developing software that puts standards and safety protocols first, allowing cities to mitigate and manage risk.
Through their latest partnership with R+T Park, AirMatrix will test their drones and develop a grid system for Waterloo. In searching for a test site, the company had to consider geography, demand, customers, and potential usability of the technology for that area. The site in R+T Park checked all the right boxes. "The whole process has been really helpful, especially in these times where some might not be too keen to push for drones. But our team was really happy – we rated R+T Park at the top of our list," says Haider. The company has been grateful for the support R+T Park has provided them.
When asked why AirMatrix chose R+T Park as their latest testing site, Haider highlights "the features we look for in a test field – they're all there. The location is fantastic." However, for Haider, the location isn't the most important factor; "it's about the people you work with," he says. "The people at the park are fantastic to work with, and you are keen on the same objectives we are when it comes to pushing technology. Companies like us – young companies – this is what we're looking for. This is the bridge between startups and the end goal of integrating drones into municipalities."
"When it comes to innovation, it's just easy here," says Haider, citing how the Region, the University of Waterloo, and the R+T Park itself are "ready, open to, and excited for new technology." These characteristics are what drew the company to Waterloo, and their values of innovation in clean technology perfectly align with that of the R+T Park. Haider also touches on the R+T Park's previous partnerships and living lab initiatives as an attractor to working with it, saying "with the other partnerships you've had, that's what really tells you – you've got a mixed portfolio of companies coming in and testing out their technologies here."
When it comes to innovation, it's just easy here.

Shayaan Haider
Haider and his team believe that the more testing and support they can receive from tech innovators and partners like R+T Park, the less hesitant governments will become. "That's why we need partners like yourself and the Region of Waterloo, people who believe in us." Once they establish a solid base of support and integrity in their product and service, prioritizing safety, municipalities will be more willing to trust what they do and keen to work with them.
While AirMatrix is just getting started and laying the groundwork for the widespread use of their technology, their drive for innovation and advancement is clear, and the R+T Park looks forward to collaborating with them as they pursue their journey. To find out more about R+T Park's living laboratory initiatives, check out Canada's first eScooter pilot, or the sustainable workplace culture research conducted at the evolv1 building. If you are interested in engaging in R+T Park's living lab initiative, please get in touch!