How TextNow is empowering their team to "Work Best"
Lindsay Gibson, COO at TextNow, talks about the company's new "Work Best" strategy, and why leading with empathy, flexibility and empowerment has been at the centre of their growth the past six months.
Strange but good.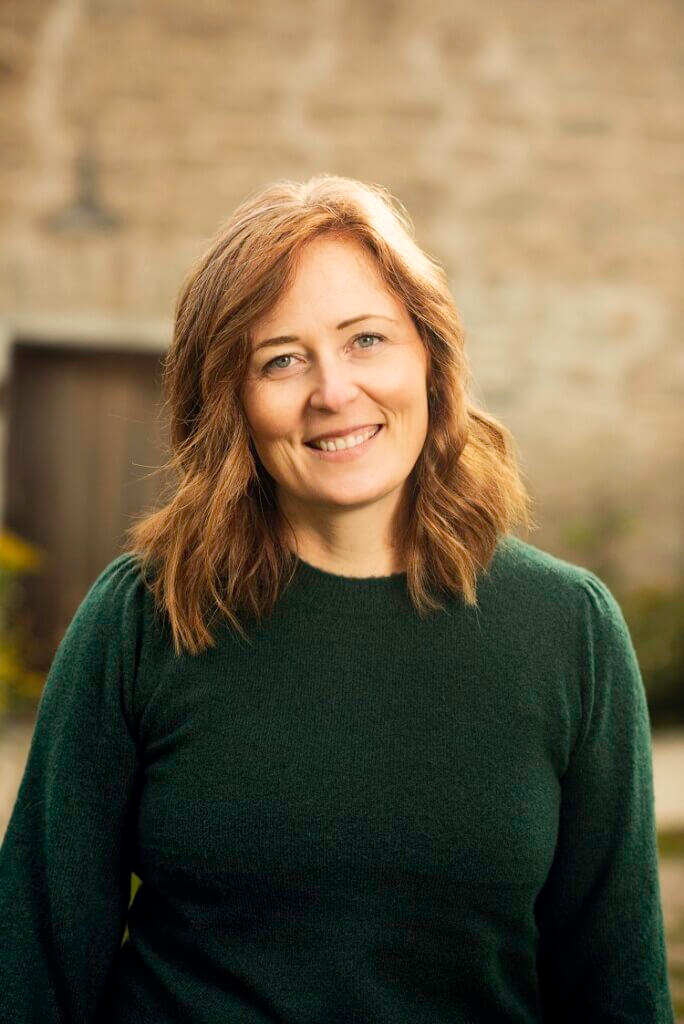 That's how TextNow Chief Operating Officer Lindsay Gibson described being back in their office inside evolv1 here in the David Johnston Research + Technology Park. "It's such a sunny space," said Gibson. "I feel like my brain is in work mode when I'm there."
As with the majority of businesses in the R+T Park, TextNow closed their space to staff in March and moved to a work from home model due to the COVID-19 pandemic. While the fast-growing tech company adapted to working from home, the leadership team at TextNow was already thinking ahead to how their employees would want to work in the future.
Thinking ahead comes naturally to TextNow. Co-founded by University of Waterloo graduate Derek Ting in 2009 to help save money on their phone bills, TextNow has quickly become one of the leading free phone service technology providers in the U.S. TextNow's technology allows consumers to text and call over WiFi for free. In January, TextNow and long-time partner Sprint announced a new Free Nationwide Talk & Text plan offering unlimited calling and texting to the U.S. and Canada on the Sprint network, with no bill. With the Sprint and T-Mobile merger in April, TextNow's Free Nationwide Talk & Text plan will be compatible with 60% of cellular phones in the US, up from about 30% now.
Even with planning, the COVID-19 pandemic has affected TextNow's business. "We redid our plan, we definitely called down revenue, we just took control of it really early and didn't wait."
Having a product that resonates with consumers when they're looking to save money or dealing with being out of work was one of the reasons that TextNow was able to weather the initial impacts of the pandemic. "From a product mission perspective, it really was a good time for us to actually tell our story," said Gibson.
RELATED: The Future of Work is Digital, Adaptable, and Global
The leadership team wanted to be upfront with employees as early as possible and not create any additional stress for their team. "We made a plan early on," said Gibson. "So by the end of March, the whole thing was to get as much to employees upfront and early on as possible." At the beginning of April, TextNow told their team that their offices in Waterloo, San Francisco, and Portland would remain closed for the summer.
"We wanted to make sure people could come and pick up anything they needed to be able to work from home. The intention of that was that I just want to give people an answer," Gibson said. As the fall approached, Gibson and the team realized that there were no pressing reasons to go back into their offices right away. In September, they announced that their Portland and San Francisco offices would remain closed for the remainder of 2020.
The TextNow headquarters in Waterloo reopened at a reduced capacity in the first week of October. "The only reason is for people that are struggling mental health wise, people with little kids at home," said Gibson. "There's certain days that you can't show up as a good employee or a good parent or a good partner, if you're trying to do all those things in the same space."
While several high-profile companies have announced a permanent move to remote work, TextNow has taken their intentional approach to employee engagement and applied it to how they will return to their offices.
"We used to have a work from home policy, but now we've created a work best policy"

Lindsay Gibson, COO, TextNow
"We used to have a work from home policy, but now we've created a work best policy," Gibson said. Work Best is TextNow's philosophy on how and where their team will return to work. TextNow's employees have three options with Work Best; they can return to their office full-time once allowed by public health, they can continue to work from home full-time, or they can choose a hybrid and work from home and the office at their convenience. "What we actually noticed is some people are thriving. Some people are literally loving life working from home. So you have the people that are thriving and then the people that hate it," said Gibson.
Gibson credited TextNow CEO Derek Ting with the idea for Work Best and Carolyn MacDonald, TextNow's Director of Communications for the name. "He said, why don't you just tell everybody that they have the control. That they don't have to come in. Just remove that anxiety," said Gibson.
For employees who choose to work from home, TextNow's Work Best philosophy also allows for them to move to another city if needed. Like many of Waterloo Region's tech companies, TextNow has employees who moved to Waterloo initially to attend university and stayed for their careers. "We have one employee who's chosen to move back to Ottawa," added Gibson.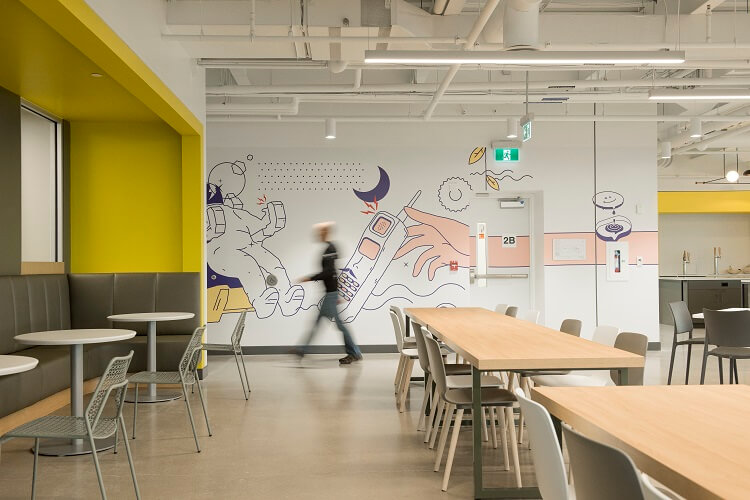 Working from home is great for some people, but Gibson noted that there are team members who miss the in-office experience. Being able to work in the office full-time or part-time has been well received internally. "There is a subset of people that were really missing it so that's why we opened it. One of our values is being resourceful and scrappy — so we did it that way." Along with all the standard COVID-19 protocols, TextNow's internal design team made decals and signage to help their teams adapt to working safely in the office.
Even with the pandemic, TextNow isn't slowing down on its expansion plans. "Right now, we're actually looking for potentially a bigger space in San Francisco," said Gibson. "The landlord knows that's not the space that we want to come back to." As for Waterloo, Gibson said this office will always be their headquarters. "We want to grow. I can see Waterloo being the place where all our leaders come because that's where the bulk of employees are. In a perfect world, we would double our headcount by this time next year." Putting proof to this point, there are over 20 open roles posted on TextNow's career page.
"We want to grow. I can see Waterloo being the place where all our leaders come because that's where the bulk of employees are. In a perfect world, we would double our headcount by this time next year."

Lindsay Gibson
"One thing that we're really lucky about in Waterloo is that we have so much space," said Gibson. "We could open fully and everybody would be able to work safely once the government says that we can be above the current percentage."
Gibson looks at the hybrid model as the future of how workplaces will function. "I don't think anybody really wants to go back to that chaos, where you're rushing. It's not necessarily about the work environment, it's the life that people are going to want."
What Work Best mode had Gibson chosen? "I would go into the office every day religiously," Gibson said. "I might have worked from home one day a month. And now I don't think I'll ever go back to full-time being in the office."
Five years ago during her interview, Gibson said CEO Derek Ting shared his vision for TextNow as being a high-performing team that was self-managed. "It's almost like this pandemic has forced it. People are working the hours that work for them. People are getting their job done when it works for them."