Evolving learning-integrated-work for the post-COVID-19 world
Part one of our interview with Sanjeev Gill, Associate Vice President for Innovation & Lifelong Learning at UW about the future of work and why learning never stops in a rapidly changing world.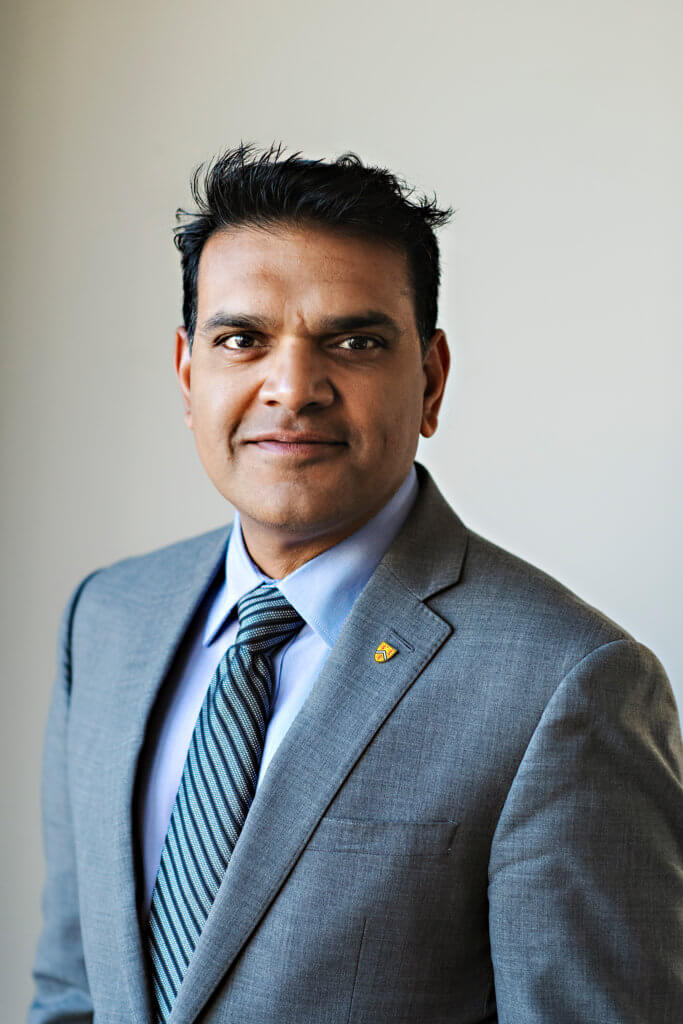 What do you see when you think of a university? Large, auditorium-style classrooms with a professor imparting knowledge as students furiously type on laptops. Post-grads discussing a lecture on sprawling grassy quads surrounded by red brick buildings. Students and professors spending hours in state-of-the-art labs in a research and technology park doing research.
Scenes such as these depict what a university's core mission is. The transfer of knowledge. It's this continuous cycle of learning and sharing that makes locating in the David Johnston Research + Technology Park attractive to companies from across the globe.
While learning doesn't stop when we graduate, our relationships with our alma maters often shift from one of learning and knowledge transfer to becoming champions and supporters.
But even before the COVID-19 pandemic forced the closures of campuses, discussions on the changing role of universities and colleges were well underway. Lifelong learning and learning-integrated-work are more important than ever as the traditional career ladder spirals in new directions. Professionals are eschewing MBAs and looking for cutting edge alternatives, such as micro-credentialing and certificate programs to help them stay competitive in our digital-by-default working world.
The University of Waterloo has a long history of working collaboratively with industry to deliver what professionals and businesses need to be successful. As the pioneer in cooperative learning, the University of Waterloo finds itself tackling both new demands on learning and the challenges of operating during a global pandemic. In the first of a multi-part series, we spoke with Sanjeev Gill, Associate Vice President for Innovation & Lifelong Learning at UW about learning-integrated-work, changing workforce demands and the evolving role of universities for students and alumni. Gill is using his industry experience to help the university deliver a new generation of programming designed to help professionals at any stage adapt to the future of work and learning.
"'I'm an industry guy who happens to find himself working at a university," Gill said as we spoke over the phone last week, Gill joined the University of Waterloo in 2019. He brought over 25 years of industry experience with him–including 20 years with IBM. His time with IBM shaped much of his approach to innovation in work and learning. When Gill joined IBM in the mid-90s, the company was experiencing significant disruptions in their industry and internally. "IBM was just coming out of a massive financial challenge. They had changed CEOs because the company was in peril. They were moving from a hardware business to being a services and software company and they ended up laying off about a third of their entire workforce around the world."
RELATED: CBRE's Mitchell Blaine Talks the Future of the Office Post-COVID
Gill sees some parallels from his time at IBM to what's happening right now in the world during the COVID-19 pandemic. One that stands out for employers and employees across our community is the move to remote work and work from home. As they reduced the size of their workforce, IBM decided to offload a large portion of their real estate for additional cost savings. "The finance folks looked at the real estate and other fixed assets that IBM had around the world and said, 'Okay, let's start offloading, start sending people home'. And so this work from home thing became very, very normal."
Having a role that wasn't tied to an office was the reality for Gill at the start of his IBM career. "I could be at a client site, I could be at an airport lobby, I could be in a hotel," said Gill. "So this concept of having to be in an office to go to work for me was absolutely foreign. And so, over the years, I've gotten really good at managing people from home."
The management structure at IBM was designed around the need to constantly evolve people's skills. From onsite computing to cloud computing and then cybersecurity and quantum computing. "As those evolutions of technology went through IBM product lines, the employee base across the world–over 250,000 people–had to constantly be equipped with new education," said Gill. "IBM became really good at disseminating education remotely, in a very slick way in both a synchronous and asynchronous manner."
In the 90s at IBM, employees would often go for training in a classroom for four weeks. "It was intense in-classroom training," added Gill. As the company began to offload buildings and people started working remotely, IBM moved much of their training online. "When I think about what's happening now with this disruption we're in the middle of, this style of working from home is very simple and straightforward. We can become very effective at it, but it puts the onus of education on the individual in many regards."
IBM's focus on learning-integrated-work meant employees spent over 40 hours a year in training. "If you were in a technical field, that was 80 to 120 hours of education every year," added Gill. "In some cases, if you were fortunate, you were able to participate in one of IBM's executive training programs from Harvard or Boston University or Stanford – and there was also a huge amount of online education that was available."
Gill sees this approach as something that universities can learn from. "We are at a point in history, unlike any that we've been in. It's not because of COVID-19, it's because of technology disruption. The rate and pace at which technology is changing and evolving is at the point where humans can't keep up any longer." Across all sectors, workers are struggling to keep up with this pace of change. Whether you're a lawyer, a healthcare worker, an accountant or a software developer, you're impacted by technology. "You can find yourself in a situation where effectively you've been disrupted, and you didn't even know why or how it hits you." Gill points to the legal space where paralegals are becoming obsolete. The "grunt work" involved in reading, researching and articling is being done by machines at scale now.
"I think more and more people are going to find themselves in one of two very unfortunate scenarios," said Gill. "One is where they find themselves and their role and their job and their function to be effectively obsolete because it's been automated. The second is going to be the inability to keep up with technology and miss out on opportunities for career advancement."
This disruption to the traditional career path has been happening for the better part of a decade. But the rate and pace of change is forcing many of Canada's top employers to find new methods to keep their employees upskilled and continuously retrained. "Employers are looking at universities and colleges to significantly shift the way by which they think and how they support industry," added Gill.
It's a challenge that Gill and the University of Waterloo are well-positioned to tackle. The 61-year-old institution has a unique origin. Local industry leaders created the university to educate and train the workforce for Canada's growing postwar economy. "We've had roundtables with some of Canada's top CEOs who've told us this is an area where UW can lead because of our strength in interdisciplinary and technology and all of those emerging trends that the world is being bombarded with," said Gill. "We do that exceptionally well"
So will the university step up to support businesses in the R+T Park, Waterloo Region and across the country? Gill and his team are working to launch an updated lifelong learning program at the university to meet the evolving needs of Canadian businesses. "We are spending an inordinate amount of time talking to industry about what those skills gaps and needs are," said Gill. These conversations go beyond the workplace to include social trends as well. "If you're not overlaying emerging technologies with behavior, and with social sciences and with humanities, you're going to miss the mark, big time."
Learning-integrated-work has to evolve to address the ever-changing maze of technology. How do you integrate AI into your business strategy? How do you make sure that you always have the best cybersecurity practices and are one step ahead of the "bad guys"? How do you think about quantum and cryptography moving forward? These are all important issues that today's businesses must be prepared for. But the question becomes – how do you merge all of this against your talent needs for your workforce? Today's employees have immediate learning needs that can't always be addressed by going back to school for a four-year degree or even a one-year program.
"How do you do it in bite-sized chunks so that people can manage it with their own lives and their families and all those other things that people have when they're in their mid-career phase," said Gill. "They're taking care of kids, they're taking care of their parents. Learning has to be in consumable chunks that are manageable within your other responsibilities that you have in your life."
Adapting lifelong learning to these needs and our post-COVID-19 world is a challenge the University of Waterloo is more than ready for. "I feel very fortunate to lead this effort on behalf of UW. Lifelong learning is written into the university's five year strategic plan and has the strongest support from our president, Feridun Hamdullahpur. We're taking it very seriously."
DON'T MISS: SAP focuses on safety when planning their post-COVID return to R+T Park