evolv1 awarded LEED Platinum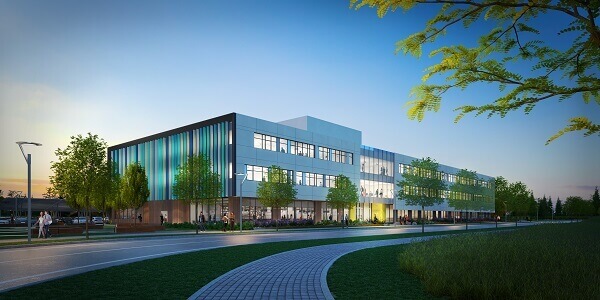 Another Milestone for Waterloo's Most Sustainable Building
Waterloo's evolv1 has been awarded LEED Platinum CS (Core & Shell), the highest possible LEED level. Leadership in Energy and Environmental Design (LEED) Rating Systems are licensed by the Canada Green Building Council (CaGBC) to encourage and facilitate the development of more sustainable buildings.
This certification comes only one week after announcing evolv1's dual certification for Performance and Design under CaGBC's Zero Carbon Building Standard.
"The Cora Group has been integrating LEED standards in our developments for the past 15 years," said Adrian Conrad Chief Operating Officer of The Cora Group. "Achieving the highest LEED level for evolv1 is a great milestone for Cora and for everyone involved in the project from the vision to where we are today."
LEED certification level is determined through the number of credits achieved by a green building. The credits are attained through a third-party assessment of the building's achievements in key areas of human and environmental health. The LEED rating system is the most widely used green building rating system in the world and is voluntary.
Since 2004, there have been more than 4,350 buildings which have been certified under LEED Canada. The Cora Group is the second in Waterloo to receive a LEED Platinum certification for an office building, following the University of Waterloo's Environment 3 Building.
Buildings can qualify for four levels of certification: Certified, Silver, Gold, or Platinum. To achieve LEED Platinum a building must be credited 80 points or above. evolv1 was awarded 85 points exceeding the score requirements.
When achieving LEED certification various aspects of evolv1's design and construction were broken down by category to determine how "green" the building is.
These categories included:
Sustainable Sites (SS)
Water Efficiency (WE)
Energy & Atmosphere (EA)
Materials & Resources (MR)
Indoor Environmental Quality (IEQ)
Innovation in Design Process (ID)
Regional Priority (RP)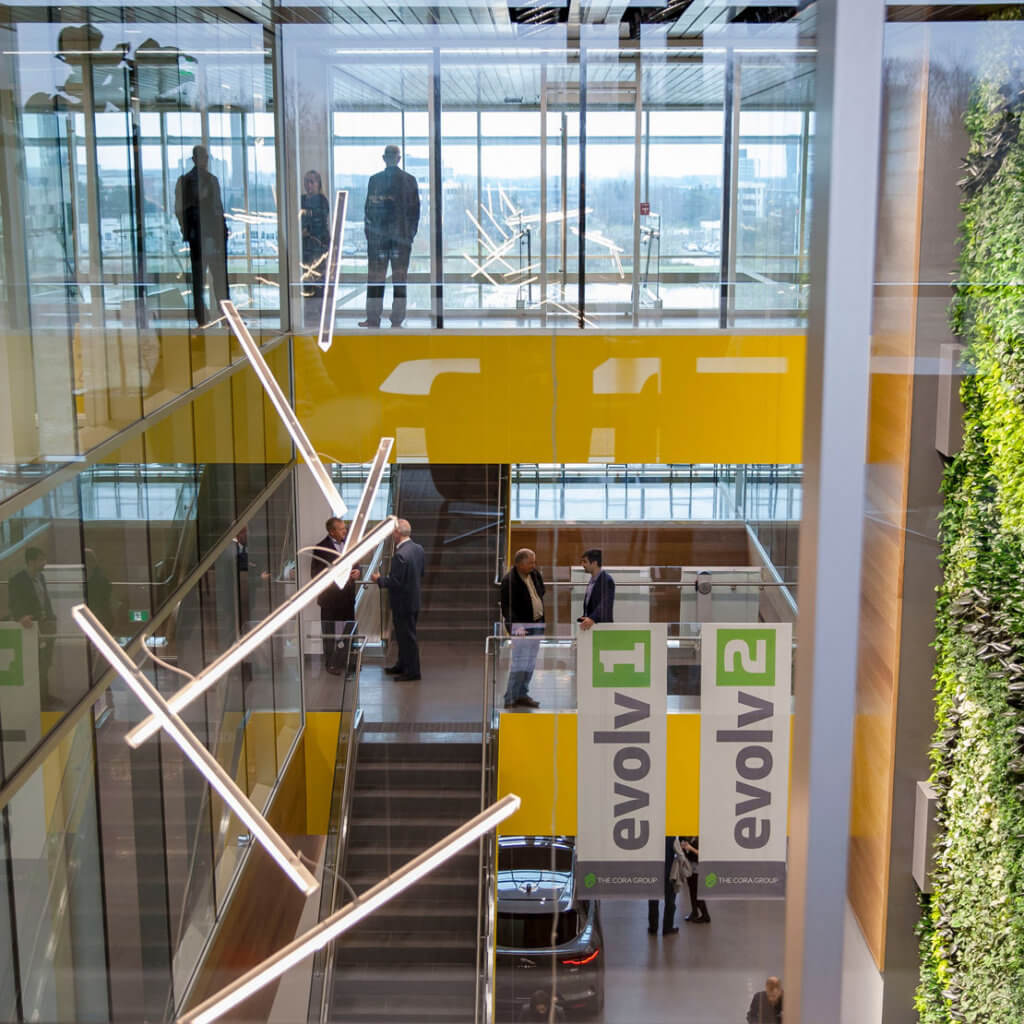 With an iON stop only steps away and a key-card accessible bike cage right by evolv1's front doors, sustainable site points were easily achieved. These benefits show evolv1 not only supports the environment by its design and performance but also supports a sustainable lifestyle for those who work within it. With ample support for the tenant community who own electric vehicles, Cora's future-focused vision included 28 EV chargers. evolv1 received 18 points in the Sustainable Sites category, contributing to the overall high score.
A highlighted category of top performance was without surprise, energy performance. evolv1 was awarded the maximum points available for optimized energy performance. evolv1 also achieved exemplary performance in Innovation in Design with Onsite Renewable Energy with a documented 100% performance where only 5% performance was required.
evolv1 has been distinguished through CaGBC'S ZCB Design, ZCB Performance and now LEED Platinum Certification demonstrating this appealing urban workspace's commitment to sustainability by meeting one of the world's highest performance standards.
The Cora Group thanks and welcomes its community to share in this proud moment. The evolv1 visionaries: The David Johnston Research + Technology Park, EY and Sustainable Waterloo Region. Also, to the members that held important roles in developing evolv1: Beatty Geothermal Consulting Inc, CFMS-West Consulting Inc., Circuit Meter, Conestogo Mechanical Inc, Livescape Inc, Melloul-Blamey Construction Inc., Mitsubishi Heating and Cooling Canada, Stantec, Stecho Electric and VCT Group. And to evolv1 tenants: Accelerator Centre, Borealis AI, EY, Sustainable Waterloo Region, TextNow, University of Waterloo and Wilfrid Laurier University