evolv1 Achieves Zero Carbon Performance Certification
Cora Group's landmark building among the first in Canada to be dual certified.
The Cora Group, a leading local developer and sustainable building advocate, today – Earth Day 2020 – announced it has achieved dual certification for evolv1 under the Zero Carbon Building Standard. The first-of-its-kind building is the second to receive the Canada Green Building Council's (CaGBC) Zero Carbon Building Standard – Design and Zero Carbon Building Standard – Performance certifications.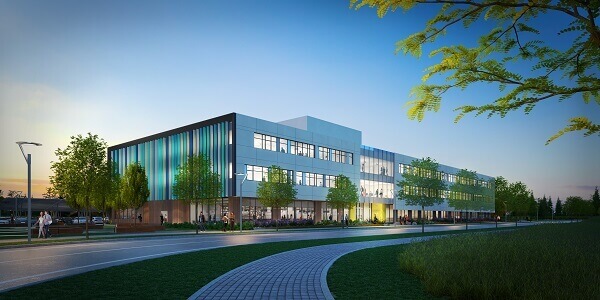 Two years prior, on Earth Day 2018, evolv1 accepted Canada's first ZCB-Design certification. The new ZCB-Performance certification is an assurance that the multi-tenant office building is on its way to achieving The Cora Group's target of net-positive energy.
"The Cora Group is pleased to announce that evolv1 has earned Zero Carbon Building Standard – Performance certification through CaGBC's Zero Carbon Building Program. The goal was to influence the market and now with the Performance certification, we hope the influence is even stronger," said Adrian Conrad, The Cora Group's Chief Operating Officer. Since the Cora Group opened evolv1's doors, it has welcomed everyone from students to country leaders through its building to show the tangible example of what a zero-carbon future could look like. "The vision is to build a better future for our world."
As Waterloo's sustainable urban office building, evolv1 operates with a highly efficient building envelope. The sustainable features include two different solar technologies: solar panels and a passive solar wall system. The building's open-loop geothermal system uses an aquifer to heat and cool the commercial space. The geothermal well is 160 meters deep and pumps 800 gallons per minute. Other features include a 40,000-litre rainwater cistern and daylight harvesting. The building promotes sustainability with 28 Electric Vehicle (EV) chargers.
evolv1 is visually known for its vast solar array of 1,440 Canadian-made solar panels covering the building's parking spots. There are also 754 solar panels on the roof. On a summer day, the onsite solar panels can produce more than 2,000 kWh of renewable energy over what the building consumes – providing this energy back to the grid.
In the winter, evolv1's passive solar wall continued to impress The Cora Group with its ability to warm the entire building requiring little to no additional aid in heating.
"Cora knew it wanted to apply for the zero-carbon performance certification once one year of reliable energy data was available and took steps to achieve this goal. It was important for us to ensure the building was fully occupied during the certification period to further validate our performance," said Thor Neumann, The Cora Group's Sr. Project Manager.
"As the very first Zero Carbon Building certification, evolv1 is already ahead of the curve," said Thomas Mueller, CEO of CaGBC and GBCI Canada. "I had the pleasure of visiting evolv1 this February. I was impressed by how the different design approaches and technologies had been integrated to achieve zero carbon as well as environmentally advanced and healthy workplaces through LEED Platinum certification. The evolv1 project helped CaGBC prove that zero-carbon designs are both technically feasible and economically viable. With the addition of a ZCB-Performance certification, The Cora Group's leadership not only continues, but it confirms that this building operates to zero carbon standards delivering premium sustainability benefits at competitive market rates."
evolv1 is populated with Waterloo's top tech, global brands, and sustainability-focused organizations. By partnering with local universities: The University of Waterloo and Wilfrid Laurier University, evolv1 has become a living lab that is researched in-depth for its energy production, and human interaction and habits within a sustainable building.
The Cora Group has provided sustainable premium office space for over a decade. evolv1's performance shows a model that operates as a zero-carbon building and, like Cora's other projects, shows no compromise. At evolv1, those working within benefit from clean fresh air, monitored humidity levels, managed sunlight or glare, and preferred temperature control.
During evolv1's first year of operation:
The 104,000 sq. ft. building's total annual production was 848,823kWh
evolv1's tenant community includes The Accelerator Centre, Borealis AI, EY, Sustainable Waterloo Region, TextNow, University of Waterloo and Wilfrid Laurier University
The Cora Group had toured over 1000 people through evolv1 common areas and its mechanical rooms to share knowledge as an industry leader
Cora group continues to charge market rates at evolv1 to tenants proving that building sustainably can be done feasibly – even for a premium commercial building
evolv1 is close to achieving LEED Platinum certification as a LEED Platinum candidate
evolv1's solar array displaced 110 tons of CO2 in one year, the equivalent produced by 130 cars a year
The Cora Group thanks and welcomes its community to share in this proud moment. The evolv1 visionaries: The David Johnston Research + Technology Park, EY and Sustainable Waterloo Region. Also, to the members that held important roles in developing evolv1: Beatty Geothermal Consulting Inc, CFMS-West Consulting Inc., Circuit Meter, Conestogo Mechanical Inc, Livescape Inc, Melloul-Blamey Construction Inc., Mitsubishi Heating and Cooling Canada, Stantec, Stecho Electric and VCT Group. And to evolv1 tenants: Accelerator Centre, Borealis AI, EY, Sustainable Waterloo Region, TextNow, University of Waterloo and Wilfrid Laurier University.