Coherent Logix Thinking Big with New Offices in R+T Park
Headquartered in Austin, TX, Coherent Logix is the world leader in low-power, high-performance, C-programmable processors for the embedded systems market. Their Canadian team lead, David Starks, has some big moves in mind, with AI and Deep Learning on the horizon.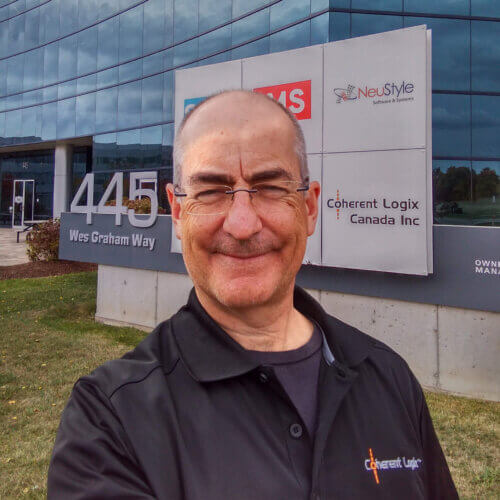 Coherent Logix is planning big things with some very small tech. The Austin-based company, which opened new offices in the David Johnston Research + Technology Park this month, is innovating in low-power, high-performance semiconductor chips, and setting its sights on leveraging their processing power for deployment in AI, deep learning and computer vision.
"There's a lot of 'brain work' in what we're doing here in Canada," says David Starks, Director, Wireless Software for Coherent Logix Canada. "When we started looking at where to locate our new office, attracting and retaining talent, particularly highly specialized talent like post-docs and PhD's in fields like Wireless, AI and computer vision, was the number one priority. R+T Park was the perfect fit – being located right on UWaterloo's campus is the best way for us to achieve that goal."
Starks has a long relationship with the community. Originally from Sudbury, he graduated from the University of Waterloo with BASc in Electrical Engineering before moving to Ottawa to work with Canadian Marconi and the National Research Council in developing embedded speech recognition technology. His MASc work specializing in Digital Signal Processing (DSP) and processor architectures at the University of Ottawa led to opportunities with Bell Northern Labs in Montreal. With the shift in the telecom industry to wireless communications, Starks moved into wireless technology research at Nortel labs leading a group in using arrays of DSPs for proof of concepts. He was attracted back to Waterloo in the mid-2000s by the opportunity to work for BlackBerry, starting the 3G wireless group and working alongside eleven-x founders Ryan Hickey and Fraser Gibbs, now located right next door in R+T Park, to develop world-class wireless technology.
"Attracting and retaining talent was the number one priority. R+T Park was the perfect fit – being located right on UWaterloo's campus is the best way for us to achieve that goal."

David Starks, Director Wireless Software, Coherent Logix
When the group was laid off in 2014, Starks, along with a number of other senior leaders, set out to ensure Waterloo retained many of the talented people who came to the community to work for BlackBerry. They started pitching tech companies on setting up in Waterloo and leveraging the ecosystem here for innovation and talent growth. They believed that companies could attract and retain top talent because of the strength of the community's academic institutions, the rapidly growing tech sector, and the affordable, high quality of life.
One of those companies was Coherent Logix. The company was in need of top engineers like Starks, with deep expertise in working with wireless Software Defined Radio (SDR) using DSPs. And in 2014 the company's first Canadian office opened in Waterloo. "They believed in us because we had the talent, a track record in creating best-in-class technology from concept through product, and they saw the value in the ecosystem here," says Starks. The company also saw positive comparisons to their HQ location in Austin, Texas. In fact, Starks has been touting a recent comparison of the two communities by the Waterloo EDC as a reason the two cities make such a great pairing.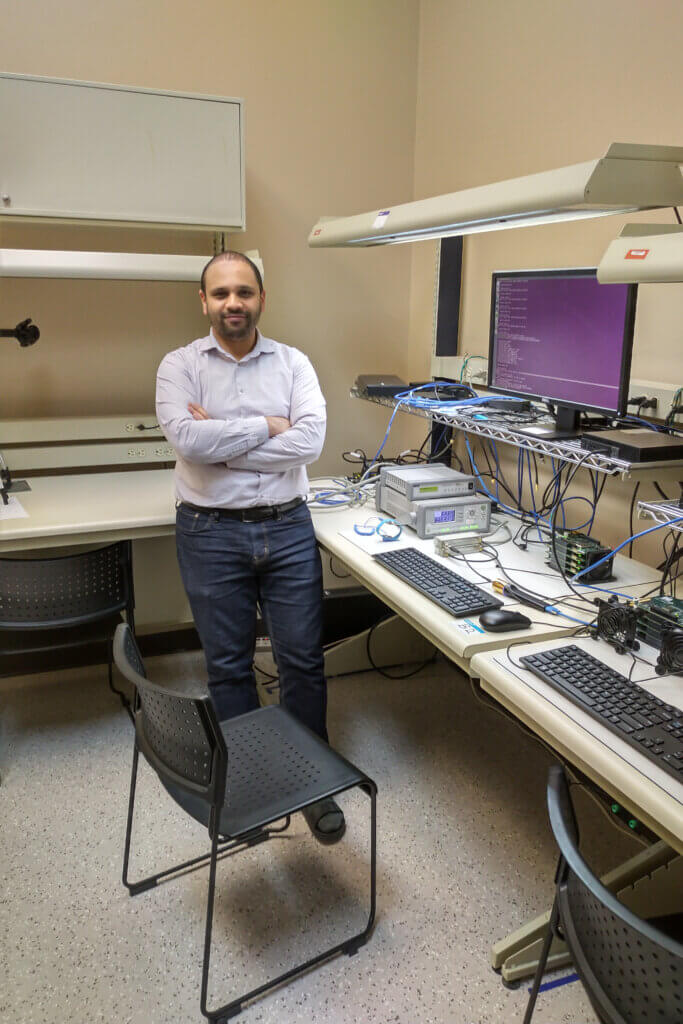 Today, the company's Canadian team, led by Starks, is building on the success of applying the company's HyperX memory-network processors to wireless SDR for broadcast television (ATSC 3.0) and 5G. The team is now focused on how they can leverage their chip for nascent applications in AI, Deep Learning, and Computer Vision. A key part of their plan is developing deeper connections with the University of Waterloo and working with the best and brightest minds in these fields. "The value of being able to do research and attract top talent is critical," commented Starks. "When we compared R+T Park with other opportunities, our CFO said the most important thing was to retain and grow our talent, that was the deciding factor in choosing this location."
The new offices in R+T Park afford high-class office space, adjacent to Canada's Most Innovative University. Starks highlights the quiet workspaces for team members, lab space, and COVID-safe common areas as features of the new office, and he's hopeful the proximity to the University will make their Coop students feel welcome and at home. "We're lucky to have top engineers like our Senior Systems Architect Eugene Mezhibovsky leading the Deep Learning project here, but we also derive tremendous value from our University of Waterloo Coop students who do a lot of heavy lifting with us when it comes to development," says Starks. "They come in right at the leading edge and get hands-on with very little to start with. They're not afraid to try things and take on new challenges; they jump right in."
But it's more than the opportunities that has Starks excited to open their new office in R+T Park. "There's a real sense of pride having the lab and offices here," he says. "We plan on being in Canada for a long time, and to see our logo on a building here alongside so many other major companies makes our team really proud."
"We plan on being in Canada for a long time, and to see our logo on a building here alongside so many other major companies makes our team really proud."

David Starks
RELATED STORIES