At TextNow connection is more important than ever
COVID-19 has shown us how important it is to stay connected, but from starting a business to teaching students, R+T Park tenant TextNow is helping people do much more than just keep in touch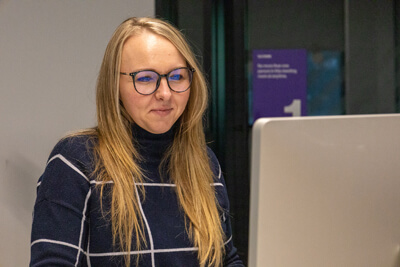 When you look back at the last ten months, one thing is clear. Regardless of who you are or where you live, human beings are hardwired to talk and share. From video calls to phone calls, physically distant backyard visits, to knocking elbows instead of fistbumps, we all have an innate drive to connect.
"I think just in general, we've seen this pandemic has really highlighted people's need for connection in 2020," said Carolyn MacDonald, Director, Communications at TextNow. MacDonald is no stranger to the world of connecting with people across distances. Before joining TextNow in their space in the evolv1 building in the David Johnston Research +Technology Park, MacDonald worked in social media and digital marketing with Canada Goose and smartphone pioneer BlackBerry.
MacDonald learned about TextNow over a coffee with Chief Operating Officer Lindsay Gibson. "She told me about this cool company called TextNow," MacDonald said. "I was quite excited to get back into the tech space after being in the luxury apparel market for a little while. That was just over four years ago. Time flies when you're having fun."
TextNow provides phone and text service for free through their app over WiFi networks. Customers can use the phone and text service for free on cellular on a nationwide wireless network in the U.S. with the TextNow Free Nationwide Talk & Text plan. You can also use the TextNow service as a second phone number for talk and text on your mobile phone and desktop computer.
RELATED: How TextNow is empowering their team to "Work Best"
Even with the pandemic challenges and moving to work-from-home, MacDonald and her team at TextNow have continued to find inspiration (and fun) in helping their customers connect when they need to most. In March, TextNow saw a 36% increase in call usage from the month before. "People just wanted to talk to their loved ones more," said MacDonald. That 36% increase equated to 450 million minutes of people talking on the phone.
It wasn't just phone calls where TextNow saw an increase — texting was also up 35% in the same period as people sought out ways to connect. TextNow also saw their customers using texting for different things than just personal connections. As schools across the U.S. moved to remote learning, the digital divide between those with access to reliable, high-speed connectivity and those without was more apparent than ever before. "We would see teachers using TextNow to connect with students, especially in some rural or lower income pockets where they wouldn't necessarily have either the means to communicate or technology like laptops," said MacDonald. One example given was teachers using TextNow to receive work from their students. "They took pictures and submitted over text, which was really cool to see."
TextNow has seen its service used in new ways to deal with pandemic challenges from the classroom to the workplace. MacDonald and the team at TextNow have heard from customers who've lost their jobs using TextNow as a way to start a new business. "We had a whole bunch of people that we saw looking for new avenues of income," said MacDonald. "So there they were starting these businesses and using TextNow as a second phone number to keep it separate from the personal contacts."
One example given was of a personal trainer who's regular gym was closed due to pandemic restrictions. She was unable to work and had gone on unemployment benefits — but then started offering personal training over video. When speaking with TextNow, the trainer noted how she could use TextNow for her business and keep her personal number for friends and family.
TextNow also saw people using their TextNow service to sell unneeded or unused household items online and keep their personal numbers private. "You're giving your number to someone that you don't actually know. Using TextNow is a great way to give a second phone number and then be able to stay somewhat private," added MacDonald.
Using a TexNow number for privacy was a driver for another use case that MacDonald and the team have seen emerge over the last few months. While many people are using TextNow to connect with family, many others use their numbers for online dating apps.
MacDonald said that dating app usage has increased during the pandemic, which has extended to TextNow usage. "We have a lot of people that use TextNow for dating when they're making the transition from an app to actually wanting to talk to someone." Customers are using TextNow numbers to have phone and text conversations while keeping their primary number safe and private. "People see a lot of value in having that phone number they can use separately from their main number. And especially for free," added MacDonald.
The impact on employment due to the pandemic has been staggering across the globe. Losing your source of income means having to make tough choices about expenses. In the U.S., MacDonald said that close to 600,000 people stopped paying their wireless bills in the first months of the pandemic. "Having that option to use TextNow for free has been really valuable to people," said MacDonald. "It's their lifeline and they use it all the time."
In today's digital world, having access to a wireless phone is almost a necessity. TextNow believes that communication belongs to everyone. That belief is their mission statement and flows through everything they do. "We want to give people the technology for free or as close to free as possible. That comes from both an accessibility and from an income standpoint," said MacDonald. "There's a lot of people who really just wouldn't be able to stay connected without us."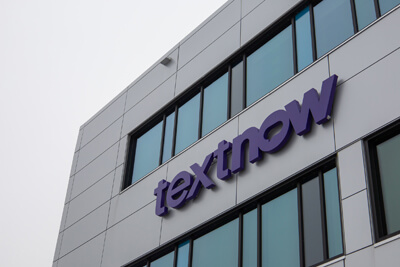 As TextNow looks towards 2021, they're doubling down on their mission to bridge the digital divide. "We really started digging into the data to see how customers are using TextNow — and we know 100 percent that the connection piece is extremely important," said MacDonald.
Keeping connected. Starting new businesses. Building new relationships. Building in privacy front and center. TextNow has taken the challenges of the pandemic head-on and is looking to help more people connect and stay connected. "The initial idea for TextNow was really to keep people connected and keep it accessible, and that's still true today."