Waterloo Wins Big at Cyber Mobility Awards
Inaugural awards, hosted by the APMA Institute for Automotive Cybersecurity, highlight achievements in automotive security; raise awareness for greater attention to cybersecurity in automotive sector.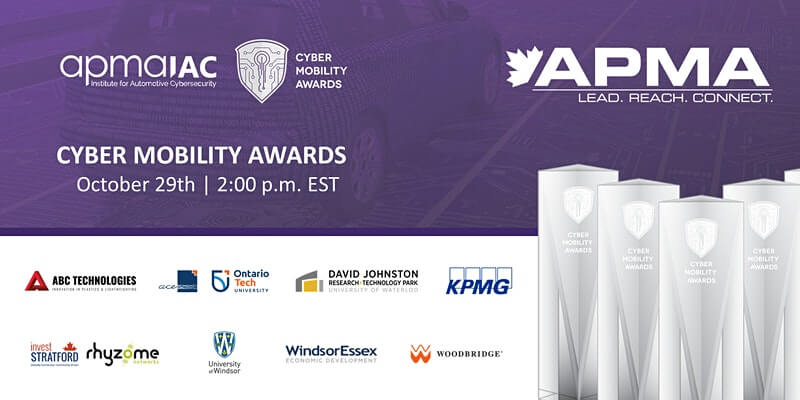 Waterloo's globally renowned AutoTech ecosystem was recognized for its leadership in automotive cybersecurity this week at Canada's first ever Cyber Mobility Awards. Hosted virtually by the APMA Institute for Automotive Cybersecurity (APMA IAC), the awards recognize Canada's many achievements in cyber security related to the automotive sector.
The automotive sector is increasingly interlinked with emerging technologies, both software and hardware, at every step of the supply chain and into the user experience. Finding security solutions is an increasingly urgent priority for auto manufacturers and their partners. The Cyber Mobility Awards help to raise awareness of the excellent work being done already, but also to highlight the need to prioritize automotive cybersecurity.
R+T Park was pleased to participate in the event, sponsoring the Global Cyber Achievement Award, which was awarded to AutoCrypt, a leading autonomous vehicle security solutions provider based in South Korea.
Waterloo's globally recognized cyber security and automotive clusters were well represented among the inaugural award winners:
Academic Cyber Initiatives – University of Waterloo–WatCAR
The Waterloo Centre for Automotive Research (WatCAR) focuses on collaborative research in automotive and transportation systems, by facilitating relations between those within the automotive industry and University of Waterloo faculty researchers.
Smart City Cyber Award – ESCRYPT
ESCRYPT began as Trustpoint Innovations, graduating from the Accelerator Centre. The company was acquired by Bosch and has become a leading provider of IT security solutions in embedded systems, particularly in the area of automotive security and automobile series production.
Best Cyber Startups – ISARA
ISARA is a security solutions company specializing in creating crypto-agile and quantum-safe security solutions for today's information technology ecosystems.
Supply Chain Cyber Award – BlackBerry QNX
The BlackBerry QNX software platform provides a safety-certified and secure foundational layer for  connected and autonomous vehicles.
OEM Cyber Achievement – Ford
Ford Canada, which has research and engineering offices in Waterloo, focuses on research and development across connected car technology, ranging from infotainment to autonomous vehicles.
Watch the full awards ceremony.