Waterloo returns $8.80 for every provincial dollar invested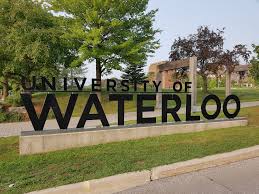 For every dollar that the Ontario government spends on the University of Waterloo, the university returns nearly nine times that amount in economic impacts to the province, according to a new independent report.
The report, prepared by PricewaterhouseCoopers, examines the institution's role in driving prosperity in Waterloo Region and Ontario. It reveals that Waterloo generates more than $2.6 billion in total annual spending impacts and more than 20,000 jobs in Ontario.
"When you look around Waterloo Region – the startups, the tech giants, the innovative centres for research and policy development – you see the University of Waterloo's influence," said Feridun Hamdullahpur, president and vice-chancellor of Waterloo. "Our university is an economic engine, powering the growth of Waterloo Region and contributing significantly to Ontario's ongoing prosperity."
In 2011, Waterloo received $297 million funding from the Ontario government for its operations. In the same year, Waterloo generated $2.614 billion in spending impacts in Ontario and more than $1.4 billion in labour income for the province.
The total spending impacts of $2.6 billion in Ontario comprises $556 million in direct spending by the University of Waterloo, $265 million in third-party spending, and $642 million in Waterloo Innovation Ecosystem impacts. This spending creates an additional $1.151 billion in indirect and induced economic impacts for a total spending impact of $2.6 billion.
$1.5 billion for Waterloo Region
The report concludes that the University of Waterloo contributes $1.5 billion annually to the economy in Waterloo Region. Of the overall spending impact, 46 per cent – $1.2 billion annually – is a result of the university's role in anchoring the region's innovation ecosystem and is spending that would not likely occur without the university.
PricewaterhouseCoopers collected data for the study from the university and public sources including Statistics Canada and included a comprehensive survey of companies in Waterloo Region to understand the university's impact.
"Deep connections with industry, strong support for commercialization of research have made Waterloo a magnet for students, faculty and partners with an entrepreneurial mindset," said Tim Jackson, vice-president of university relations. "But we're also attracting companies to this region. International companies such as Google have set up in Waterloo Region to take advantage of the deep talent pool here – and that trend is continuing."
The survey identified that around half of the 720 companies in the Waterloo Region Innovation Ecosystem said the university was a key factor in their company's start-up or ongoing operations.

Read the full story here