Sweet Opportunities Abound for Plum
CEO Caitlin MacGregor talks about growth, partnership and the importance of finding the right talent.
Being part of the David Johnston Research + Technology Park opens the doors to amazing research and partnership opportunities. The University of Waterloo offers world-class researchers and some of the most sought-after co-op students in tech. You also happen to be in the same neighbourhood as the Accelerator Centre, ranked as one of the Top 5 Global Accelerators in 2019.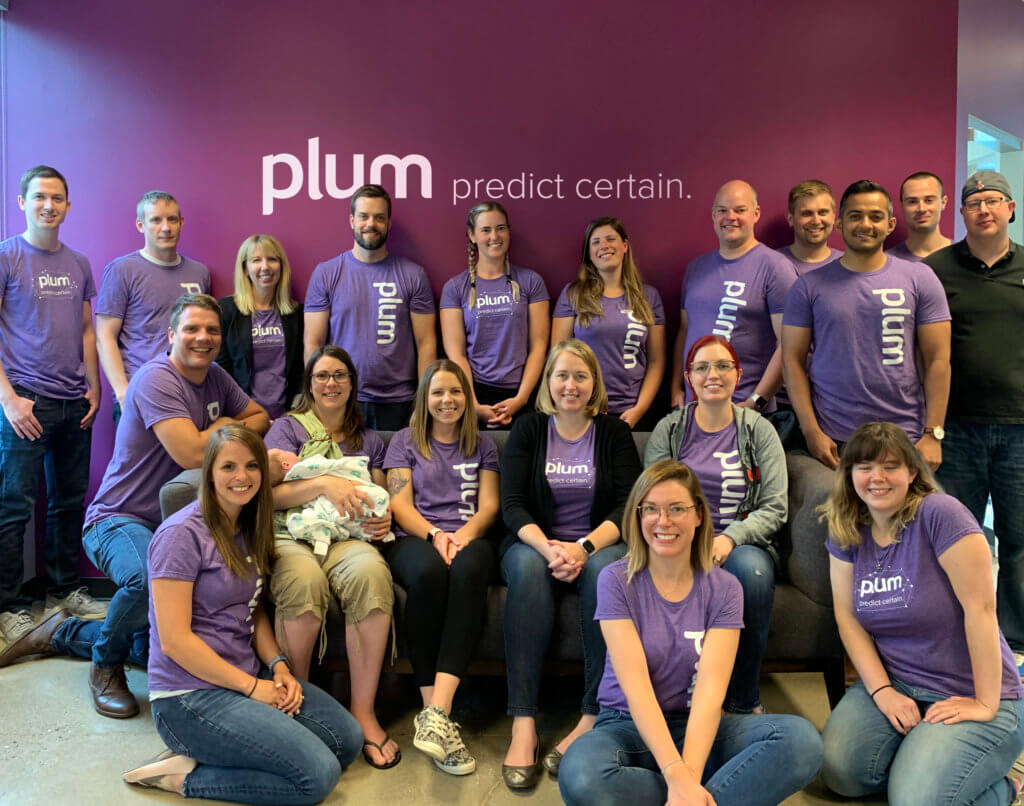 We've seen some great partnerships come from the R+T Park – most recently with a longtime tenant and Accelerator Centre graduate Plum.
Plum's platform leverages artificial intelligence and industrial and organizational psychology to help companies match candidates to jobs where they can thrive and succeed. "When we started, we were focused on helping small to medium businesses make better hiring decisions," said Plum Co-Founder and CEO, Caitlin MacGregor.
The platform developed by Plum is divided into two parts. First, hiring teams at companies complete a survey to identify critical traits for success in a role. At the same time, potential candidates are asked to complete an assessment quantifying their cognitive and personality traits. This assessment creates a talent profile that can help companies make hiring decisions that Plum says are four times more accurate than resumes and traditional interviews.
In 2013, MacGregor moved the startup to Waterloo Region to be part of the HyperDrive program at Communitech in Kitchener. After graduating from Communitech, the small team applied and was accepted into the Accelerator Centre's AC JumpStart grant program, eventually becoming a client in the AC's renowned Accelerator Program.
Plum worked out of Communitech and the AC for three years before graduating from the Accelerator Program and moving into their own space. "The support over the years has been incredible," said MacGregor. "You have that lift from the mentors that help you increase your bench strength."
As Plum continued to grow, they started to win contracts with large enterprise companies. "They have a different need that's just as important as getting the right hire," added MacGregor. "It doesn't matter if it's an external or internal candidate, they want to identify a person's internal potential."
One of those enterprise customers is SAP. Headquartered in Walldorf, Germany, SAP has regional offices in over 180 countries. SAP's office in the R+T Park traces its roots back to Watcom International Corporation in 1981. Through a series of mergers and acquisitions over the years, the office became Sybase iAnywhere which was acquired by SAP in 2010.
So how did the global software behemoth SAP and Waterloo-based scale-up Plum find each other?
"Internal teams at SAP started to use our tools organically," said MacGregor. Those teams were using Plum for internal mobility and finding it was a way to support their employees by truly understanding them.
"SAP reached out when I was fundraising," added MacGregor. Plum has raised over $8 million in funding since they started – including a $5 million raise in October 2019 from Real Ventures, BDC Capital's Women in Technology Fund, and SAP.iO – SAP's venture fund. "SAP.iO investing in us gave us massive credibility."
That credibility led to a complete product integration with the SAP SuccessFactors platform. "We're now an SAP App Center Partner working on sales enablement and go-to-market planning for SuccessFactors." Plum even has a dedicated sales rep located in Atlanta, GA for SAP customers.
Plum has grown considerably from where they started in the Accelerator Centre. Beyond the impressive funding, Plum now employs 33 people at their office in north Waterloo. MacGregor points to Plum being an outlier as an enterprise SaaS business. "It's rare to be this successful so early with a 30~ person company," said MacGregor. "It's a pretty big accomplishment."
As an Accelerator Program graduate MacGregor continues to support the startup community. "It's nice to be an alumni with these incredible people in the community and being able to give back."
Plum is also completing a project with the University of Waterloo. In the program, students completed their Plum profiles as part of the co-op placement process.
With the ongoing COVID-19 situation and the move to work from home, Plum is working to help affected workers and companies. Plum has made it's Plum Profile free for employees and companies to help them identify their top talents, work preference and style to help them identify ways to be more effective working from home.
"It's more important than ever as companies have to do more with less," said MacGregor. "We can help you support your staff and put people first."