Stantec Sees a Green Future
Smart Technologies Leader, Mike Voll talks green energy, emerging technology, and why R+T Park was the perfect place for Stantec
If you watched television in the 90s, you probably remember the phrase "I'm not only the Hair Club president, but I'm also a client". It was the sign off used in every ad by infomercial pioneer Sy Sperling. Now, you might be asking what this has to do with one of Canada's largest research and technology parks.
For Stantec, they're not just an anchor tenant in the David Johnston Research + Technology Park, they're also responsible for some of the industry-leading sustainable engineering in R+T Park's buildings.
Stantec is a global design and delivery firm with over 24,000 employees in 400 locations across the globe. Their teams work on infrastructure, building, and energy projects while always staying true to their guiding principle of "design with community in mind".
In Waterloo Region, one of the Stantec teams focuses is smart technology. This is more than your standard smart home thermostat or smart light bulbs. "We work on all things that can go on the power grid and that have the potential to disrupt it," said Mike Voll, Global Sector Leader, Smart Technologies at Stantec.
Stantec has had a team in Waterloo Region for almost 20 years. Voll joined Stantec soon after the local office opened in Market Square in Downtown Kitchener. In 2016, the 300 person team moved into the innoTECH Building in R+T Park.
"We had a difficult time finding a place locally that could accommodate our long term growth needs," said Voll. The innoTech Building is designed, built, and managed by the Cora Group, known for energy-efficient buildings and sustainable construction practices. The building was first occupied by smartphone pioneer BlackBerry (Research In Motion). The 100,000-square-foot building is Waterloo Region's first LEED® Gold designation for New Construction.
The Stantec team weren't strangers to the building or R+T Park either. "We were involved in the servicing plan when the park was built," added Voll. "We started with the OpenText building, then the Agfa building – we had connections to the park."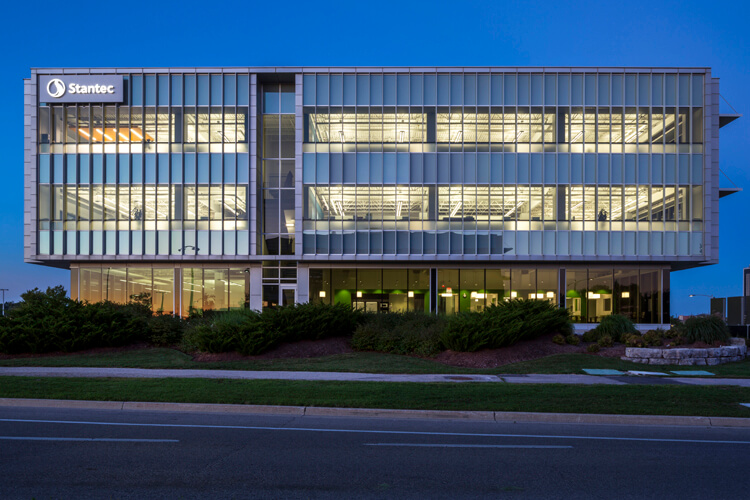 Voll described the innoTech Building as being a couple classes higher than their previous office. "It's just a phenomenal building." R+T Park also offers amenities beyond the buildings. While the park offers ample parking for those who drive to work, there are also active transportation options. R+T Park has its own ION light rail system station which is part of the Region-wide Grand River Transit system. "That's one of the things that attracted us – the LRT stop is helpful."
Staff at Stantec also take advantage of the multi-use trail system that connects R+T Park to the Region's extensive trail network. "The trails are phenomenal. We do noon hour walking routes and a lot of our team use the cycling network to get to the office."
Today, the local Stantec team works on a number of different projects ranging from climate change initiatives and clean energy to sustainable development and electric vehicle charging. "You wouldn't think about it, but clean energy sources have the potential to disrupt the power grid," Voll said. "They add sometimes intermitent energy to the grid which drives for the need for things like energy storage and microgrids."
Stantec's expertise in sustainable development brought them onto the newest R+T Park building, Cora Group's evolv1. "Some of the same designers from the Agfa project were part of the team that worked on evov1," said Voll, "We also brought in our Renewable Energy team on the project."
evolv1 is targeting LEED Platinum and is Canada's first certified zero-carbon building. The building offers 104,000 square feet of class-A office space and is home to TextNow, EY and more. It is also a net-positive building, producing more energy than it uses thanks to an impressive array of sustainable energy features. "The roof's solar panels generate 200kw of energy with an additional 400kw from the carport solar panels," said Voll.
evolv1 also features an interior living wall and triple-glazed windows throughout. "Cora Group wanted to build a carbon positive building and have the space available at the same rates as regular buildings – it's an aspirational building."
Stantec's influence on the park doesn't end with evolv1. Voll and his team are currently exploring investment in further microgrid and smart building research in support of evolv2, which is planned to be built across the street from evolv1. The new project has many of the same sustainable energy features as its sibling. "Our intent is to look at a microgrid concept for it," said Voll. "Wouldn't it make a great epicenter for a microgrid and be able to share energy with other buildings in the park?"
Stantec is looking to contribute more than just world-class engineering for R+T Park's world-class buildings. Voll said that being in the park with the Accelerator Centre and close to the University of Waterloo and their Velocity startup accelerator is key to their ongoing success.
"It opens up the opportunity to weave new technology into the fabric of our projects," Voll said. "There's a community aspect with being located here."
They are working with an R+T Park startup that is developing battery technology that they may use in upcoming projects. "It's a lab concept right now, but they need a host site," said Voll. "R+T Park and some of the landlords like Cora Group have been really receptive. It's something that benefits them and the community."