Snapping up the chance to do good!
When Jody Frederick isn't supporting customers in her role as a Lead Technical Writer with OpenText, she's helping to save turtles right here in R+T Park and all across Southern Ontario
One of the largest tenants in the David Johnston Research + Technology Park is OpenText, Canada's largest software company and a global leader in enterprise digital transformation projects. Organizations depend on OpenText technologies and expertise to stay ahead of the curve in everything from cybersecurity to supply chain logistics to managing critical infrastructure and energy projects.
OpenText employees get to make a significant impact on a global scale every day. They're also able to make a difference locally, including helping at-risk wildlife here in the R+T Park.
Jody Frederick is a lead technical writer at OpenText and a volunteer with the Ontario Turtle Conservation Centre (OTCC). The registered charity's mission is the protection and conservation of Ontario's native turtles and the habitats they call home. The centre operates a turtle hospital that treats, rehabilitates, and releases injured turtles into the wild. They also conduct research to improve conservation initiatives and offer educational programming.
Frederick and her husband have always had animals around them, including cats, dogs, horses, and birds. At the pandemic's beginning, Frederick said they were looking for something to do with their time. It was then that they learned about the OTCC.
"We found out about this volunteer opportunity. It sounded really interesting. You get to drive around southwestern Ontario and look for water sources where you can release turtles. Our love for animals pushed us towards it. It really feels like we're making a difference," Frederick said.
Their first volunteer position was with the centre's Turtle Taxi program. Volunteers are tasked with bringing injured turtles to the centre for treatment in their hospital, where they are rehabilitated before being returned to their home water source. Frederick said that as cities expand and wetlands are developed, turtles lose their natural habitat and face threats from crossing roads.
"Turtles need to cross roads. Not because they want to, but because we put roads through where they live. They're really vulnerable on the roads and a lot of them are getting hit by cars. People do not mean to hit them, it's just that they're so small," Frederick said.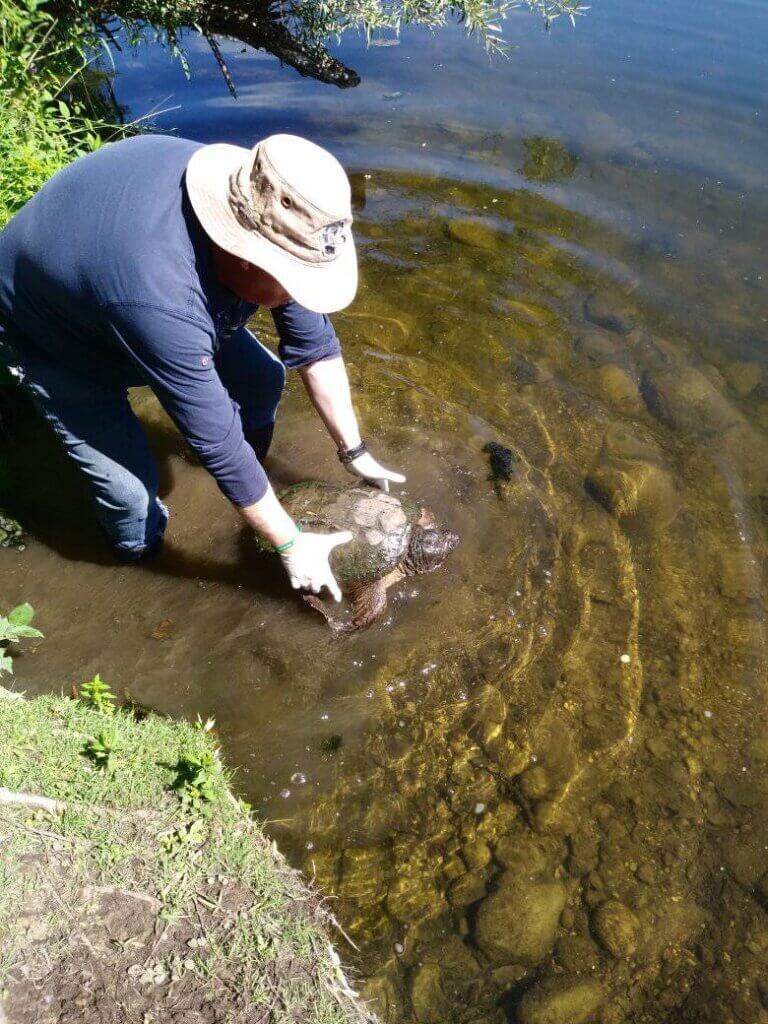 Turtles are critical to the ecosystems they inhabit, most notably within wetland areas. Canada has 25% of the world's wetland area, but 70% has been developed. When turtles are lost, the wetlands they live in become less ecologically stable. Our wetlands are essential for safe water supplies, erosion prevention, and flood control.
The centre's staff, including executive director and Chief Medical Officer, Dr. Sue Carstairs, have developed new processes and tools to rehabilitate turtles injured by drivers or construction.
"It might look like it's a fatal injury, but they've developed ways to use epoxy and other material to repair and heal their shells. They have over 1,000 turtles right now in their care," Frederick said.
When alerted to an injured turtle, the centre works to arrange a group of volunteers to drive the turtle from the accident site to their hospital in Peterborough, Ontario. Each volunteer or volunteer team is assigned a leg of the journey based on where they live.
"My husband and I started with the Turtle Taxi, where we were taking injured turtles up to Peterborough or partially up to Peterborough and meeting other people. But then we discovered the other part of it—where once the turtles are healed, it's the opposite problem. They need to be released back to the wild," Frederick said.
Turtles need to be released as close to their home area as possible. Frederick said that turtles possess strong homing instincts. If released in the wrong place, they will start heading to their home area—which can potentially mean crossing dangerous roads again. She added that if you find an injured turtle, the OTCC has a hotline that you can call to make a report and start the Turtle Taxi into action.
"They've hit a bellwether moment where people are learning about this now and more and more people are understanding what they should do and who they should call when they find these turtles," Frederick said.
Frederick said she is thankful for OpenText's support of her volunteer efforts. Each of the company's 14,000+ employees receives three days to use towards the volunteer opportunity of their choice every year.
"I wasn't sure what charity I was going to support until I found this one—and the coolest thing of all is that I've been able to release three turtles back to their home here in the R+T Park where OpenText is headquartered," Frederick said.
Beyond the volunteer days, Frederick has rallied her fellow OpenText colleagues to help with supporting the work of the centre. Delivering turtles to the centre and back to the wild requires using bins to transport the turtles safely. Frederick recently put out a request and was amazed at the response.
"I posted photos on our intranet of turtles that I released near the office. I wanted to let the employees know that this was happening right outside their window because I thought it was eye-opening. It turns out a lot of other people thought it was pretty cool too. When I put out the call for bins, so many people replied. Some people even bought news ones too. We collected over 20 bins for the centre," Frederick said.
She added that many of her colleagues didn't realize the diversity in wildlife within the R+T Park. With the new knowledge of the turtles in the park, she said that she's noticed people driving slower and looking out for turtles in the park.
"It feels like we're giving back a little bit by simply helping a species at risk survive. We can't just live in a bubble and ignore that we are part of an ecosystem and these animals are trying to coexist with us. "