R+T Park Community Impact Fund Donates $15,000 to Sexual Assault Support Centre
Thanks to funds raised from our first ever Charity Disc Golf Tournament held in R+T Park, the Community Impact Committee was able to add to our contribution from the David Johnston R+T Park Community Impact Fund held at the Waterloo Region Community Foundation (WRCF) and donate $15,000 of unrestricted funding to SASC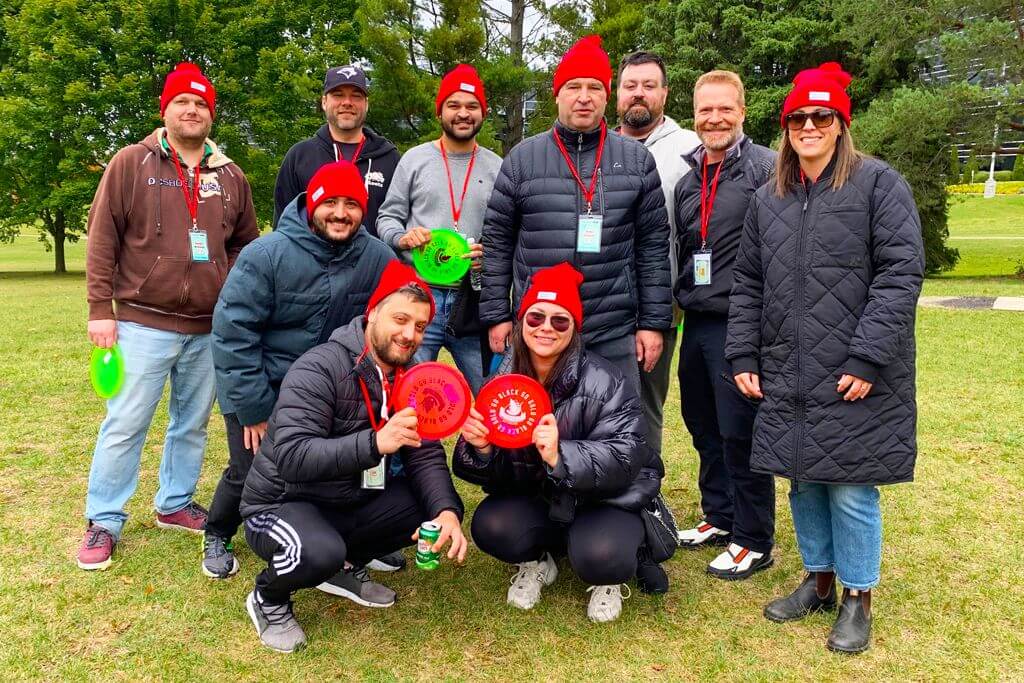 It was a bit chilly last week as DJ King Kadeem kicked off the last R+T Park Beer Gardens of the season and teams took to the field for our very first Charity Disc Golf Tournament – but that didn't stop anyone from having a great time. More than 40 players and volunteers laughed as they hurled their custom Waterloo Warriors discs towards metal baskets down the grassy slopes of the UWaterloo Disc Golf Course, many for the first time ever. It was exactly what we'd hoped for – people coming together as teams, having fun, trying something new, and all for a great cause.
The tournament was a great success and allowed the R+T Park Community Impact Committee to add to our funds at the Waterloo Region Community Foundation and provide an unrestricted grant of $15,000 to the Sexual Assault Support Centre of Waterloo Region (SASC). The funds couldn't come at a better time as unfortunately the need for the services SASC provides is greater than ever, with an average of 200 people on the waitlist for counselling and support services.
Wish you could have been involved? Not to worry! The SASC Halloween Fun Run is back! ​
Sign up, collect donations, and walk, run, or roll 5 kilometres in support of the Sexual Assault Support Centre of Waterloo Region – in costume! This is a family-friendly, non-timed run/walk/roll.
Date: Saturday, October 15, 2022
Time: Check-In at 11:00 a.m. | Kick-off at Noon
Location: Kiwanis Park, 1000 Kiwanis Park Drive, Kitchener, Ontario
About the Sexual Assault Support Centre of Waterloo Region
For 32 years, the Sexual Assault Support Centre of Waterloo Region (SASC) has wrapped survivors of sexual violence in community care. From counselling, court support, practical assistance, public education, advocacy work, and more – SASC walks beside survivors through their entire healing journey. Services are free and come without time limits. SASC's motto to survivors is: "You are not alone."
About the R+T Park Community Impact Fund
The David Johnston R+T Park Community Impact Fund began in 2006 and is housed at the Kitchener Waterloo Community Foundation. Over the past 16 years the tenants and friends of R+T Park have raised more than $300,000, creating a sustainable, ongoing investment in local charities. Raising money for the fund and disbursing the annual grants is overseen by a dedicated group of volunteers from R+T Park who make up the R+T Park Community Impact Committee:
Ali Chalhoub, SAP
Rose Greensides, Social Venture Partners
Greg Hanmer, Hanmer Law
Lubna Mujtaba, NAVBLUE
Elizabeth McFarlane, IMS
Mike Pereira, R+T Park
Olivia Rogalla, Accelerator Centre
Kelly Sage, OpenText
Adam Steeves, Waterloo Warriors