Accelerator Centre CEO Paul Salvini on why CleanTech matters more than ever
Q+A with Paul Salvini, CEO, Accelerator Centre
The Accelerator Centre has announced plans to launch a new cleantech program for startups. Can you tell us more?
Clean technology ("cleantech") is a broad field touching many areas, from more efficient use of energy, to environmental improvements, to sustainable products and technologies. It is a multidisciplinary pursuit involving ideas and discoveries from the natural, social and health sciences.
Our new clean tech program is a new three-year pilot program launched in partnership with Sustainable Waterloo Region and the Trillium Foundation. Our goal through the program is to restore the Canadian clean economy to a position of global leadership. By providing clean tech startups with a collaborative environment, specialized resources and access to our award-winning Accelerator Program™, we will help companies to bring their innovative solutions to market faster and more successfully.
The program will also leverage the expertise and support of the AC's four founding academic partners: the University of Waterloo, Wilfrid Laurier University, the University of Guelph, and Conestoga College.
What detail can you provide us about the program?
The program will launch this September. Initially, we'll be inviting five new startups to join, and it will be housed in a dedicated area within the Accelerator Centre's main facility at 295 Hagey Boulevard. Our core program is broken down into four phases of maturity. Clean tech startups will enter into the program in phase one, similar to the other clients we serve. This initial phase of the program is focused on market validation, but will also provide learnings specific to clean technologies. Part of the pilot program's mission is to receive feedback from the first cohort of cleantech companies to determine what resources and specialized expertise they need. As we learn more, we'll revise and enhance the program accordingly.
Our longer term plan for the cleantech program is to move it to the new evolv1 building in the research park, taking up residency in 3,000 sq.ft located within the building's 15,000 sq.ft. incubation space called evolvGREEN. The evolv1 building is one of Canada's first net positive commercial office buildings and is being built to a LEED Platinum standard. One of the unique attributes of evolv1 is that the tenants taking up occupancy in the building are there because they want to live and work in a more sustainable way. So we expect the building's ecosystem will itself be a test bed for some of the technologies our cleantech startups will be building. We'll be gathering data about people's use of the building, including the behaviours of the occupants, to learn more about what it means to live and work in a net positive building and to understand how users are interacting with sustainable technologies.
How does this initiative support growth in our startup ecosystem and in Waterloo Region?
Cleantech is a broad and wide ranging field and there are huge intersections between this field and the manufacturing sector, which ties very well into this Region's industrial heritage and future. Manufacturing companies can be large consumers of natural resources and are often looking for new processes, materials and technologies that enhance sustainability. By partnering with local cleantech companies, manufacturers will have the ability to become early adopters of the innovative technologies emerging from the program. This synergistic relationship provides local manufacturers with a competitive advantage and local startups with early revenue and a reference account.
Looking at the universities that surround us, we see tremendous potential to serve as a commercialization engine for new companies and much of the cleantech research that is taking place. Just at the University of Waterloo there are over a dozen institutes and centres relating to sustainability including the Waterloo Institute for Sustainable Energy, the Water Institute, the Centre for Groundwater Research, the Centre of Ecosystem Resilience and Adaptation, and the Centre for Advanced Photovoltaic and Display Systems.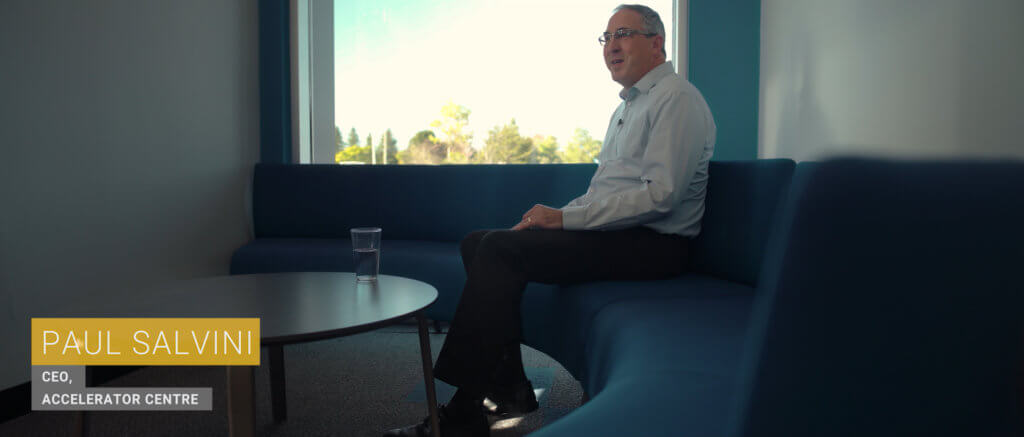 Cleantech is a keen area of interest for the government at all three levels, and there is a growing amount of support for companies working on improving sustainability. The Accelerator Centre's support for cleantech will benefit the Region by creating a critical mass of sustainability commercialization expertise. Because of the talent coming out of our universities, the Region of Waterloo is already geographically at an advantage. We have historically attracted companies who have set up shop to gain access to talent and expertise. By layering on an additional concentration of focus on cleantech, we expect to be able to attract even more new companies to the Region. Our partners within the cities and in the region see the AC's cleantech program as yet another way to attract investment and companies who are making location decisions. We can absolutely see global brands wanting to choose Waterloo Region as their new home, or putting locating an innovation arm here where their team can focus on exploring green technologies — even for their company's own internal use.
Why this degree of specialization and why now?
Quite simple, we are serving demand from our startup clients.
44 Gaukel was the AC's first specialized incubation location. As we looked across our startup clients, there was a recognition that we are hosting a lot of companies working on hardware and/or advanced manufacturing. That facility has been very successful and we hope to grow into a new space over time.
It is essentially the same situation with respect to cleantech and other areas of specialization. As the AC grows in terms of its success and impact — we have grown from 20 companies when we first opened our doors to +120 now — we are looking at more specialized areas or themes, which allow us to bring together individuals and companies with specialized interests and needs.
This new cleantech program, housed in evolv1 is a great example of what is possible. We have the opportunity to turn an entire building into a living lab where everyone is brought in. When you colocate like-minded individuals , tremendous creativity is unleashed. They leverage each other's expertise and networks.
The new cleantech incubator will also create a destination within the Region. Funders, such as venture capital firms specialized in cleantech, will know how to easily find companies that match their investment profile. And visitors to the Region will have a "tour stop" where they can meet with clean tech companies and see the living lab in action.
You have a dual role as UW's Associate VP of Commercialization – how does the clean tech incubator tie into UW and its research?
Throughout the university there is a impressive amount of research that is taking place in the areas of sustainability and cleantech. Some of the research is happening in our multidisciplinary institutes and other research within and across the various facilities. Cleantech is a highly interdisciplinary area focused on important global challenges and opportunities. The ideas in this area and the entrepreneurs in this space could come from any faculty at University of Waterloo. I expect our cleantech program clients will represent a beautiful mix of entrepreneurial talent representing many disciplines throughout the Region.