Net Positive Energy Office Set to Rise in Waterloo
LEED Platinum project in Idea Quarter involves tenant in design process
Wednesday, April 19, 2017
By Rebecca Melnyk
​View Article here
---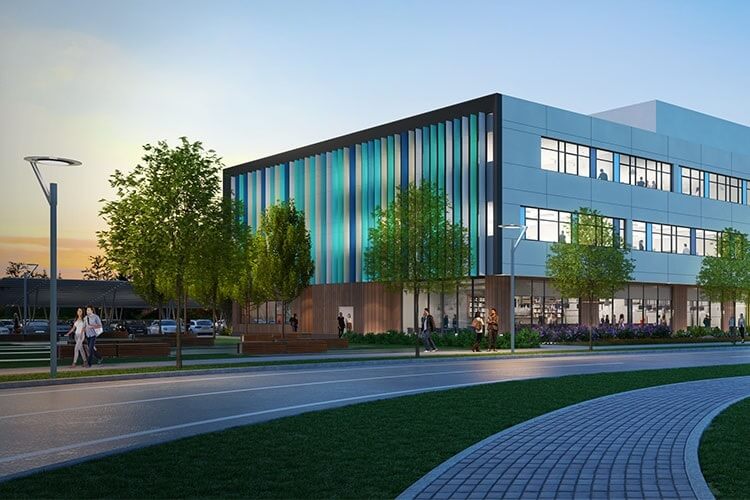 In Waterloo, Ontario, workers are installing wells for a geo-exchange system that will heat and cool a new office development aiming to be one of the most energy efficient in Canada. What will be a LEED Platinum, net-positive office building that produces more energy than it consumes every year, is also known as Evolv1, a name that serves as a metaphor to its surroundings.
Situated within the David Johnston Research + Technology Park (R+T Park) in the Idea Quarter, near a 270-acre environmental reserve, the construction site neighbours forward-thinking tenants involved in everything from bio-technology and solar-power to the automotive industry and agri-food. The R+T Park is also home to the largest privately-owned green roof in southwestern Ontario, which, at the time it was built ten years ago, was the largest in Canada.
Companies there, along with a green team, are involved in ongoing strategies to reduce greenhouse gas emissions. This new building will follow suit, while also evolving old industry norms, showing that Class A office space can be developed in a highly sustainable, but commercially viable way.
"What we're demonstrating with Evolv1 is that we're able to develop it at market prices," says Adrian Conrad, chief operating officer of The Cora Group, the project developer. "We're hoping that it's a catalyst for change in the industry, locally and beyond. With this new office space I want to change what employees and companies demand in their buildings, to show this can be done, and done cost effectively."
Partners collaborating on the three-floor, 110,000 square-foot building include Sustainable Waterloo Region (SWR), anchor tenant EY Canada and The Cora Group who invested $35 million into the project. Another tenant has also committed to the space, which will open its doors in 2018 and is currently being preleased alongside Evolv2, a similar office building that will one day rise across the street.
Two years ago, project architect Stantec conducted a feasibility study to investigate what was possible in creating the building. The team then decided to target LEED Platinum design principles.
Aiming to go well beyond current green building practices and integrate systems that give back to the environment, a geothermal exchange system will extract heat from the ground to warm the building on cold days and send excess heat into the ground to cool the building on hot days.
Smart, dimmable 1-10V LED lighting will be installed throughout the building, along with a variable refrigerant flow HVAC system. And about 1.5 acres of 700 kilowatt photovoltaic solar panels will blanket the roof and carport, generating clean electricity in the face of rising energy costs. They are projected to generate about 106 to 110 per cent of the building's energy requirements.
Triple-glazed windows will salvage insulation concerns, while also adding an abundance of natural light.
"What occupants will find is they are, at most, 40 feet away from a window anywhere in the building," adds Conrad. "So, we'll end up building what is highly sustainable, but also really great office space. With our mechanical system, we're also designing for higher air changes than normal – the more fresh air, the more comfortable the office."
Another way the design targets good air quality is with the addition of a solar wall on the south elevation. An aluminum perforated wall will be installed with an air cavity behind it so the building passively preheats air without using energy, before the mechanical system carries it into the space.
Two years ago, SWR, EY, The Cora Group and the R+T Park came together with a collective vision of what they wanted to achieve. The team is also working with a community development psychologist from Wilfred Laurier University on how best to engage tenants in the building.
"Four organizations have been jointly undergoing this vision as a whole, knowing the needs of the tenants is part of the success of the building. There is someone sitting in on meetings every three weeks to help guide decisions as the voice of the tenant, which creates an integrated design process."

Tova Davidson, executive director of SWR
When SWR wrote their strategic plan in 2013, a home for sustainability was on the list, where interested parties would come together to work on running more sustainable businesses. For SWR and its partners, they aim to transform Evolv1 into a highly sustainable workplace, but also add a cleantech innovation hub on the main floor.
"The building is the foundational piece," adds Davidson. "Without the building, none of this could be possible, and we're looking to do additional things to be even more innovative and create a clean economy cluster in the region, growing the network we already have."
Through the City of Waterloo, Evolv1 received funds from the Green Municipal Fund to help with the feasibility study. The City will soon share those findings as a way to "disrupt the development industry" and make such green buildings less of an apprehensive process.
As for The Cora Group, it has been undertaking sustainable developments for a while now, with three of its office buildings earning LEED Gold, including the R+T Park's innoTECH Building — the first LEED multi-tenant office building in Southwestern Ontario. Each building is more sustainable than the next, and Conrad is often asked why he cares and why he "does what he does."
"It's all about passion," he says. "When I sit down with Tova at Sustainable Waterloo Region, Carol Stewart at the University of Waterloo (R+T Park) or a partner at EY, it's a group of people who are passionate about seeing change. You invest so much time into doing something like this; it's the passion of trying to create, change the industry and do what's right for the community."