Looking at the evolving future of mobility with IMS
Andrew Brown-Allan and Brian Halk from IMS, a global leader in telematics and connected car technology, talk changing trends and emerging possibilities for the future of mobility.
For many, the rapid shift to a work from home model wasn't simply a change in where their workspace was located. Digital by default removed the daily commute from the workday. This caused a massive shift in how our streets, sidewalks, trails, and public transit systems are utilized–something we're still sorting through today.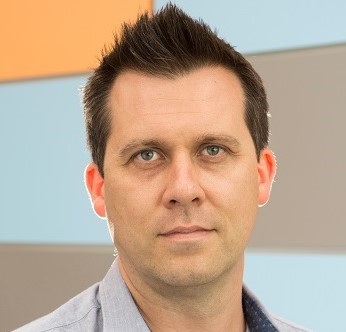 Before COVID-19 and virtual meetings in dress tops and sweatpants, mobility trends were already changing. "Micromobility, e-scooters, e-bikes. If what we're thinking a post-COVID world will be is right, then today is the plateau followed by a spike," said Andrew Brown-Allan, Chief Marketing Officer at IMS, part of Trak Global Group. "People are looking at a multimodal approach to transportation across the globe." Based in the UK, Trak Global Group is the parent company of Waterloo's IMS, which was acquired in 2018 and moved into the David Johnston Research + Technology Park in January of this year.
IMS is one of the world's top providers of connected car data solutions, leveraging data and technology to foster safer, smarter and fairer driving. With the impacts on cities, individuals, and businesses from COVID-19 still unfolding, IMS has seen the demand for their technology increase. "The pandemic has started to change the way we all look at mobility," added Brown-Allan.
IMS sees the trend of decreasing private car ownership speeding up. Brown-Allan pointed out that in urban centres, there are multiple transportation options – micro-mobility, public transit, ride-sharing. Outside of those areas, however, there is a lack of choices and with it a growing sense of being trapped in car ownership.
At the same time that road maintenance costs are rising, a combination of less usage of fuel, increased usage of electric vehicles, and a drop in commuting due to COVID-19 mean a potential decrease in government fuel tax revenue. These factors are driving the adoption of road usage charging programs where telematics is used as a more accurate method for road tax charges based on actual kilometers driven–since fuel usage is no longer the correct determinant. "Road usage charges are an increasing way to make up for a decrease in revenue from gas taxes and to make sure everyone is paying fairly for road usage," said Brown-Allan.
RELATED: IMS wins prestigious awards, plans to double in size
Another emerging opportunity for IMS is in how insurance companies provide coverage. While private car usage is down because of COVID-19, insurance premiums haven't adjusted to match. "A ten minute round trip is as much as I do. But I'm still paying the same for insurance. It isn't right," said Brown-Allan.
The increased adoption of car subscription services and seasonal leases has driven demand for usage-based insurance. "We've never seen the growth in demand we're experiencing before," said Brown-Allan. "What gets measured gets managed. People that run fleets of cars can use our solutions to charge in real-time. Not only that, they can innovate their offerings based on usage trends that are emerging."
Managing a large fleet and monitoring usage requires constant review and optimization of the vehicles. "We're seeing one of the major motivations to use our solutions is the ROI customers can generate through being able to monitor usage. In the example of a vehicle collision, an insurer or fleet operator can understand what the level of damage is, who was involved, and start recovering the associated costs."
The IMS team also thinks about the risks from autonomous vehicles. "One thing is certain, people will continue to have crashes, even with autonomous vehicles on our roads," Brown-Allan said. The use of telematics is a way for both drivers and the insurance companies to make the settlement of claims fairer. "Today, for many of our mobility fleet customers, 20% of their customers are responsible for 80% of their damage costs. Maybe they should be paying more for their usage than more responsible users?"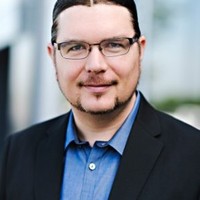 It's fitting for IMS to have their North American headquarters in R+T Park. Across campus at the University of Waterloo, you can find some of the brightest minds in engineering working on connected and autonomous vehicles with the university's Engineering Automation Research department. Waterloo is also home to a regional technology development site for Ontario's Autonomous Vehicle Innovation Network focused on high-definition mapping for autonomous vehicles.
Beyond usage-based insurance, IMS is helping insurance companies address new challenges to how private vehicles are used. "Think of what happened with COVID-19 and the massive shift to individuals joining grocery and meal delivery services," said Brian Halk, Senior Director Of Marketing at IMS. "Many used to either use their vehicles solely to drive themselves or for ride-sharing purposes. Now they're in a commercial situation–and on a personal policy." Halk said that insurance companies are looking at ways to be supportive of drivers doing deliveries and other non-commute usages.
Another challenge at the onset of the COVID-19 pandemic has produced a major change in the way insurance providers use telematics. "As a policyholder, if you got in an accident when the lock downs started, your claim was basically frozen," said Halk. Field adjusters followed a very manual process. Paperwork would be passed from them to one department and onto another. "With the lock downs, no one would come to take photos or see the damage. Policyholders were told their cars could not be fixed."
Halk and Brown-Allan noted that many providers had been in the process of shifting to touchless and virtual claims before COVID-19. The IMS team was amazed by the speed of adapting to virtual and touchless claims processing. "Most of our customers did it within 30-45 days. They shifted quickly," added Halk.
The shift to virtual and touchless introduced a triage model, where certain types of accidents are small enough to be done virtually. In these incidents, the policyholder is being asked for photos and telematic evidence. Telematics is where IMS helps insurers provide value to the policyholder from the moment of impact. "It's a big shift. The claim is a moment of truth for a customer," said Halk. "Insurance is seen as a tax. Having the ability to demonstrate value is great for the insurers."
Lowering costs isn't the only goal for IMS. "We're a business, but one that has a strong desire to do good and use data in a positive way," said Brown-Allan. IMS is focused on driving down the number of collisions and fatalities through promoting better driving habits. While young drivers are statistically more likely to be involved in an accident, mature drivers can often be the cause of accidents even with their years of experience. "They have bad habits. No disincentive to stop driving badly. Morally, we cannot ignore that, but commercially speaking, insurance pricing should reflect how people actually drive and their real risk profile."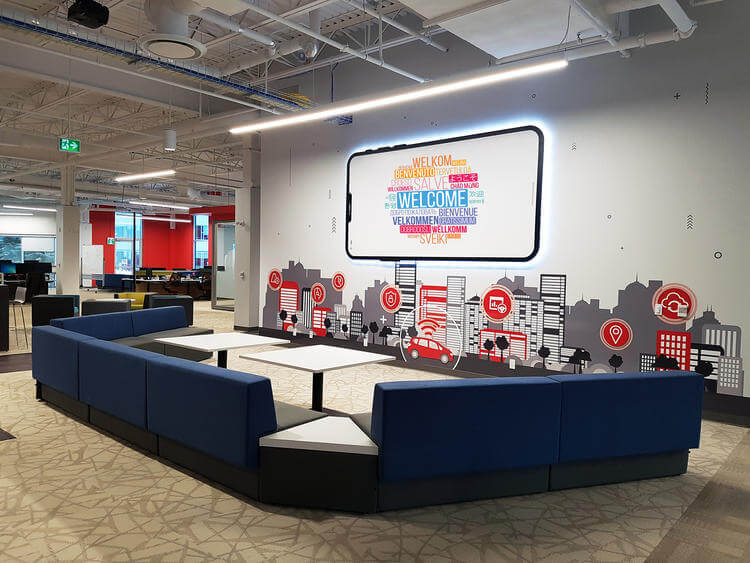 With the move into the R+T Park in January and the growing demand for their technology, IMS is planning on expanding its workforce into 2021. Before the move into the R+T Park, IMS was located on King Street in North Waterloo. When IMS was searching for a new location, proximity to a strong talent pool like the University of Waterloo was important. "We wanted to be surrounded by other companies within the tech ecosystem, near the talent pool and near campus," said Halk. "We've seen a lot of difference being in the park."
Brown-Allan didn't hold back when thinking about their old space. "It was completely devoid of any kind of character or personality," he said. "We wanted to find the team a place they'd be excited to be in. I'm actually hugely jealous because this is a better office than our HQ in the UK."
IMS employees are safely starting to return to the office based on the company's very flexible approach to remote home work. "Every day feels like part of transition," added Brown-Allan. "People want to be back in a workplace, to socialize. People have an appetite to get back."