Disrupt and evolv: researcher explores the psychology of sustainability in evolv1
A new report by VERiS researcher Manuel Riemer tells the story of how evolv1 came to be, and how psychology, as much as technology, is determining the path forward towards a more sustainable future.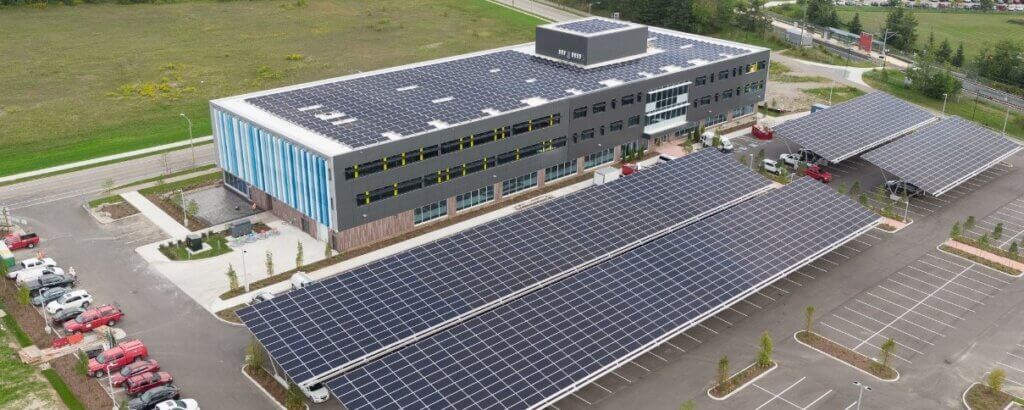 What comes to mind when you think of the spaces you've worked in? It could be the layout of workstations, the placement of printers, or a cozy kitchenette that always worked better as a meeting room than most of the actual meeting rooms.
While good intentions go into how buildings are designed, there's one variable that always throws a few wrenches into how a building will perform over the long run — human beings.
Understanding how people interact with buildings is part of the research of Manuel Riemer, Ph.D., a professor of Community Psychology and Sustainability Science at Wilfrid Laurier University and the Director of The Viessmann Centre for Engagement and Research in Sustainability.
The centre focuses on the intersection of psychology and sustainability and has a unique location for this research inside the evolv1 building here in the David Johnston Research + Technology Park.
The three-story LEED Platinum building is Canada's first zero-carbon office space and features an extensive array of green technology, including a 40 ft. living wall with over 4,000 tropical plants.
Using evolv1 as a living lab, Dr. Riemer and the The Viessmann Centre, alongside the University of Waterloo and York University, have researched and produced a new report titled Collaboratively Disrupting the Building Industry: The Unique Story of evolv1 in Waterloo Region. The report, which was written by Riemer alongside Kai Reimer-Watts, Stephanie Whitney, and Sherly Leitan-Claymo, tells the unique story of how evolv1 came about. The report will have its official public launch at the Disrupt and Evolv: Building the Future Together virtual event on Thursday, Oct. 28, co-hosted by Sustainable Waterloo Region.
We sat down with Dr. Riemer to understand more about his current research and how psychology can influence well-being and sustainable behaviours in the workplace.
It's not easy being green
Being located in evolv1 is a unique opportunity to explore a problem called the performance gap. Riemer said the leadership team for the project learned this issue while in their early planning stages.
"After you build the buildings to perform at a certain level, let's say in the case of evolv1 to be net positive energy, what you often observe is that in the actual use of the building, those performance goals are not being fully met — you are actually below your goals. That's called the performance gap," Dr. Riemer said.
Download the Report — Collaboratively Disrupting the Building Industry: The Unique Story of evolv1 in Waterloo Region.
You know the performance gap if you've ever seen a beaten path through greenery where it was faster to walk than taking a paved path. Riemer said that it had been partially attributed to how people interact with their surroundings — this includes the people operating the building and the people occupying it. Understanding the causes of these performance gaps was a perfect fit for Dr. Riemer.
"There was a need to look at this from a psychological perspective because it involves people, so that's how I became involved," Dr. Riemer said.
evolv1 — the living lab
After attending a community forum, Dr. Riemer quickly engaged in some preliminary research to help designers psychologically. The building is home to multiple organizations, including EY, TextNow, and Sustainable Waterloo. With the building occupied and operational, Dr. Riemers' work moved to start looking at the cultural sustainability developing within the building.
As with all buildings, there is a mix of influences impacting how tenants interact with the building. The layout of floor plans can affect how people use their space, including placement workstations, offices, kitchens, and other amenities.
With evolv1, Dr. Riemer was able to research the use of space with a grant to purchase different office equipment to experiment with the use of space.
"I set up a scenario within our space in evolv1 where we have enclosed offices with doors; we have an open booth with a table and side walls for some privacy, — what I call a semi-open space. Then there is a completely open space where there's no barrier at all — you're just sitting in a shared open area with different types of sitting arrangements. We have installed sensors to measure where people are gathering to see which spaces they prefer," Dr. Riemer said.
Taking that research a step further, Dr. Riemer worked with Laurier colleague Dr. Noam Miller and graduate student Jovan Poposki to create a mathematical model of how people move through the space.
"This is an interesting collaboration, because my colleague is a behavioral neuroscientist. He normally studies the behavior of animals and has mathematical models for modeling how animals move through space. We're doing something similar, but now we get to see how people are moving through the space," Dr. Riemer said.
The ways we work (and move)
evolv1 is a building where you see the thought in everything from the green wall to the lighting. You can also see the effort companies and organizations put into designing their spaces within their spaces.
Even with this forethought, gaps in the building's energy performance relative to its design potential still may exist. Understanding the psychological reasons behind this has been the focus of Dr. Riemer's work.
He said that the performance gaps could be created in other buildings by something as simple as a person opening a window to get some fresh air.
"In our building, we don't really have the option of opening the windows, so that plays less of a role. But people might put in a space heater if they feel like they're too cold. They're using more energy than what's modeled for the use of the space," Dr. Riemer said.
Designing from a psychological perspective
Dr. Riemer and his team looked at other buildings across Canada to collect data for the design of evolv1. That early research helped influence the design of evolv1.
"One of the ways where we did influence the design of the building early on is around well being. The research showed that anything that makes people feel connected to nature improves people's perception of well being. Those conversations with the design team led to things like the green wall," Dr. Riemer said.
Another feature influenced by the focus on sustainability and well-being was the design and placement of the main staircase inside evolv1. The staircase is in a pleasant open space right next to the three-story green wall painted in a bright yellow, and is positioned in the Centre of the building between the north and south entrances.
Join VERiS and Sustainable Waterloo Region on Oct. 28 for Disrupt and Evolv: Building the Future Together
Dr. Riemer said you could design the building to encourage sustainable behaviour in the ways they move throughout the space.
"The thing that I had suggested is that you want to make the stairs the most obvious choice. The elevators should be hidden and be just a backup choice. Some of the buildings that I was looking at, you go into the lobby, and you only see the elevators. The stairs are almost more like an emergency thing. That's not how we need to design buildings. We need to design buildings to guide people into a more sustainable choice — and that's what you see at evolv1," Dr. Riemer said.
Feeling connected to the building
In addition to being a sustainable building, evolv1 and its design affect its tenants.
"There is a limited body of literature that suggests you can use a green building to engage people to actually motivate them to become greener just by simply being in a green building," Dr. Riemer said.
There's no guarantee that this will happen, but that limited research inspired Dr. Riemer to make sure the green features were visible.
"One of the key things is the building actually needs to feel like you are connected to the sustainability features of the building. The other building that we were studying in Alberta looked like a regular office building — there was nothing about the building that would tell you that it's a high efficiency building. With evolv1, you have the green wall, you have the solar panels in the parking lot. We also do tours so that the people who work there know the features and they really connect to it as a green building," Dr. Riemer said.
Do you see yourself being green?
Learn more about space opportunities in evolv1 and our new evolv2 building today.