Q+A with Charles Chung
Charles Chung, CEO and Founder, Brisk Synergies (Q&A)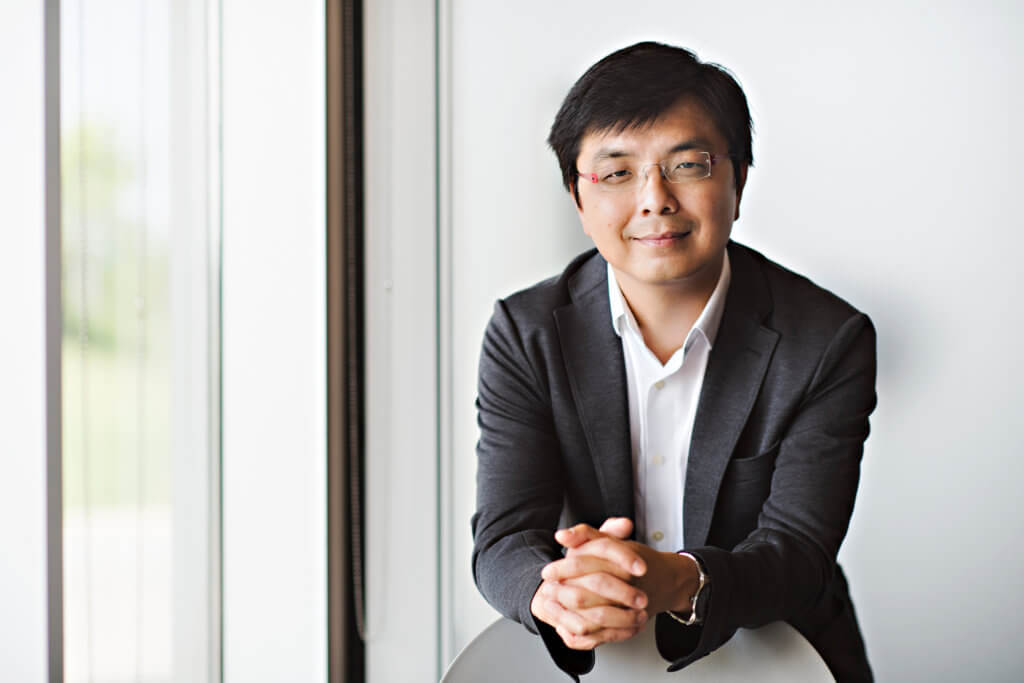 WATCH: How did your startup journey begin?
CHARLES: Brisk Synergies isn't my first startup. My first was a tough learning experience. I think it's important to do a first startup because it primes your brain, it makes you realize a lot which is a big help. One thing I've found over my time as an entrepreneur is that there's a lot of value in working with a partner. This time with Brisk Synergies I have a partner in Montreal and an office there, so I go back and forth a lot. Having a co-founder to bounce ideas off of makes it easier to make calculated decisions instead of going with your gut feeling. I think in that aspect it's really important.
WATCH: Where did the idea for Brisk Synergies come from?
CHARLES: My co-founder is a professor at McGill. We were friends years ago and finally met up again, just a few years ago for a beer. He began telling me about his research which focuses on traffic. He's using data analytics to reduce congestion, save lives, reduce accidents — I thought it was fascinating. Just a very exciting space to be in. He was equally fascinated by my background, which is focused on technology commercialization. That's how we got started.
WATCH: Two skills sets that found each other?
CHARLES: Yes, and we were able to build on a pretty long friendship too. I think that helps a lot because you have to fall back on that along the journey. You bring together different perspectives and it's nice to have more than just business to fall back on — it's important. To some degree, being co-founders is like a marriage.
WATCH: What is life like in the R+T park for a startup?
CHARLES: My company is based out of the Accelerator Centre in the R+T Park and It's a really good place for tapping into the startup ecosystem. Our company will grow from here. Entrepreneurship is a really lonely journey. Having connections and the peers who are growing up together is really helpful. You feel like you're not the only crazy guy. Being part of the AC provides a lot of reassurance.
WATCH: What drew you to the Accelerator Centre to found your startup?
CHARLES: My first startup was on the West Coast. I'm from Singapore and have lived all over. I primarily chose Waterloo because of my family, my wife. However, the AC right is definitely a place to be to tap into our area's startup ecosystem. I feel that there's a common team among all the peers.
WATCH: Waterloo offers a lot for startups, but are there still areas for improvement?
CHARLES: From working in different ecosystems I've found that Waterloo Region, in general, has a lot of experience to offer. There are a lot of companies that are doing some cool shit here. However, I see an opportunity for improvement in the way that sharing happens. I would like to see us doing a better job at connecting startups with established, proven business leaders. There's a lot of experience to be shared. I feel that it could be a better integrated where there is an ecosystem where the communication is open. I feel that as an individual company you really need to go hunt and look but the networking is not as natural. Companies need to remember where they came from.
WATCH: Brisk is focused on smart cities technology, providing intelligence to improve transportation systems. That work has presented you with the opportunity to work with other AC graduates – can you update us?
CHARLES: Yes, we are closely working with Miovision, one of the AC's first grads. Together we are building technology to visualize cities and their transportation networks. We want to understand how traffic is moving across cities to assist with urban planning and to help cities monitor traffic pattern changes and understand where there are different issues on the road. This partnership has resulted in quite a number of deployments across numerous cities, mostly thanks to Miovision's existing network of contacts, so we have a good level of data coming in from various cities to help us with the development of the solution. Hopefully, in the coming months, we will be able to package up the solution and launch it with beta users to obtain real feedback. So the project is on track.
WATCH: What's next for Brisk Synergies?
CHARLES: A lot. We are busy rolling out new technologies and new solutions. We are always looking for new ways to help cities understand vulnerabilities on the road. Our message is resonating really well with the whole concept of Smart Cities. There is a lot of interest among municipalities in new infrastructures, cameras, and to being able to look at how traffic is moving and the associated risks. Cities around the world are embracing technology for this purpose. For instance, Sweden has introduced Vision Zero, a concept which focuses on reducing death on the roads and dangerous collisions. The whole industry is going through major disruption right now. Everywhere practitioners and cities are opening themselves up and looking beyond just road construction. They are realizing there's to solving the traffic problems we face than simply fixing the road constantly. They want to figure out what information we can get from the roads. I think it's an exciting time to be in the transportation technology space.