Cora Group leads the way in sustainable development
Q+A with Adrian and Manfred Conrad of Cora Group
R+T Park: The Cora Group has a long history with the R+T Park. What did you see that made you want to put such a substantial part of your energy into it?
MANFRED CONRAD: When James Downey was the President of the University of Waterloo, there was talk of creating a research park, but nobody knew exactly how to attack it. Then, when David Johnston came in as President of the University of Waterloo, he took over the idea. He was a great influencer and with the help of some success stories, the momentum was created to keep the idea going. Companies from other countries were being given the opportunity to grab a spot here in Waterloo because they were coming for the engineers (graduating from University) anyway. That's why we joined, we knew something would happen.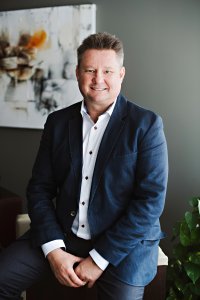 ADRIAN CONRAD: We also started building more relationships at that time. We had just built the Innotech building, the Accelerator Centre building and the Cora building within the R+T Park, so it signalled a new growth phase for Cora Group as well.
R+T Park: evolv1's doors are set to open in 2018. How do you feel about the project being a statement as well as a new office space?
MANFRED CONRAD: evolv1 is and isn't a statement at the same time. I find it a bit surprising that people regard it as a statement project because the standards we are using to build evolv1 are standards we would like to see implemented across all Class A office buildings.
ADRIAN CONRAD: What we're doing isn't anything new. We didn't invent the amenities that evolv1 has. We just created more of them. People spend a large sum of their days at work. We believe that working in a space with fantastic air quality, that has LRT transportation 80 metres away, electric vehicle charging stations, networking and collision areas, and a place to grab a coffee or fresh juice and go for a walk, are all things that add positivity and relieve stress from a person's work day. Yes, it's more expensive to build this way, but evolv1 doesn't produce any carbon, so there are no utility bills – which really cuts costs over the long term.
R+T Park: You've won multiple awards for the success and ratings of your buildings. Why is it important for you to continue pushing the envelope?
MANFRED CONRAD: It's all about being proud in what you do and in what you have created. When I drive by our buildings at night and see something I don't like, I make sure it's changed. I don't want to feel ashamed when I show someone my building. All of the things I build, I take pride in, and when you take pride in something, you are motivated to keep it up. We need to do our part for the region.
ADRIAN CONRAD: We're both passionate about our technology community. We've helped a lot of the companies here in Waterloo Region, and it's incredibly exciting. We got to know them when they were just startups riding bikes to work. Seeing these founders and their companies grow and create something is a passion for us. Our passion for sustainability is also deeply rooted. My parents own many acres outside of town, and they plant organically and live in an environmentally friendly way. Their values don't only show through with Cora Group and our sustainable building practices, they show through in their everyday lives.
MANFRED CONRADAdrian and Manfred Conrad of Cora Group (Evolv1 Special) It's important for society to start demanding better environmental building standards. We have the technology to help the environment, so why are we not setting building standards that will actually make a difference? Once the standard is set, the cost of building will go down.
ADRIAN CONRAD: We need companies to start demanding building owners to do more and to start demanding better standards when leasing space. We can see it now, that millennials are expecting better, more sustainable and healthy work environments. People may say, "why do I care if these buildings have LEED Platinum designation, or have triple glazed windows?" The answer to that question is that because evolv1 (and evolv2) won't produce any carbon as they operate, they will offer our tenants and their employees a better workplace environment. And that becomes a point of attraction for top talent. People need to know that they can expect more from their builder, but they also need to feel like it's important first.
R+T Park: evolv1 and evolv2 will be more than just buildings. They will be an environment in and of themselves. What vision do you have for the long run, beyond creating a new pair of buildings?
MANFRED CONRAD: I envision a village. A place where people are able to live, work, eat, and enjoy the outdoors. We want them to be more than just office buildings.
ADRIAN CONRAD: We want the buildings to go beyond you exiting and leaving the office space. There will be a coffee shop, easy transportation to Uptown and Conestoga Mall, a fitness centre, several kilometres of trails that can be used six to eight months of the year, and exciting places to eat. Imagine condos being in these buildings, and being able to take an elevator or set of stairs to all of these places, which decreases the need for transportation. It's a lifestyle that people want, and we have it.