Accelerator Centre showcase celebrates entrepreneurial spark
SPARK, the Accelerator Centre's annual AC JumpStart showcase, highlights the incredible entrepreneurs in cohorts 11-14 of the AC JumpStart program and the real-life inspirations that drive them to innovate through uncertain times.

Dealing with adversity is one of the traits that makes some a great entrepreneur.
We see this every day here at the David Johnston R+T Park. Not just in established companies like OpenText, TextNow, and IMS, but the startups and scaleups building their businesses at the Accelerator Centre located in the heart of the park. Last year, the Accelerator Centre celebrated being named Canada's top private business accelerator at the World Incubation Summit in Doha, Qatar. But the proof of the Accelerator Centre's success is more than rankings—it's their impressive alumni list, including ApplyBoard, eleven-X, KnowledgeHook, and Miovision.
ApplyBoard and eleven-X are two of the most well-known alumni of the Accelerator Centre's AC JumpStart program. AC JumpStart is a unique, one of a kind program in Canada focused on a combination of seed funding and mentorship to help Canadian companies rapidly scale their businesses. As interest in entrepreneurship continues to grow, the Accelerator Centre has found themselves with more quality applications than they have room for in each cohort. The program is delivered in partnership with Conestoga College, the University of Guelph, the University of Waterloo, and Wilfrid Laurier University and is funded by FedDev Ontario. Companies accepted into the program receive ‍$30,000 in seed capital and 7 to 12 months of one-to-one mentorship from the AC's team of in-house experts.
RELATED: Accelerator Centre announces second cohort of Voice Technology Accelerator Program
In a normal year where we weren't dealing with a pandemic, the Accelerator Centre would host their SPARK event to showcase select AC JumpStart clients. Taking inspiration from the theatre world, the Accelerator Centre team decided that the show must go on. Instead of an in-person showcase event inside their space, the Accelerator Centre is launching SPARK as an all-digital installation that features the top 25 AC JumpStart companies from the last four cohorts. The showcase runs from Monday, November 16 through December 18, 2020.
"Normally it's more science fair style event, where people walk around, shake hands and talk about their technology," said Tabatha Laverty, Manager, Marketing and Communications at the Accelerator Centre. "But in the COVID universe, an in-person event like that is not possible, so we've reimagined it as a digital showcase."
The Accelerator Centre took inspiration from a popular storytelling account on Instagram. "If you're familiar with the Humans of New York at all, it's kind of inspired by that same idea," said Laverty. "It's just little snapshots about what has inspired entrepreneurs to do what they're doing or to solve the problem that they're facing. It's really meant to inspire people to become entrepreneurs."
The launch of SPARK 2020 coincides with the start of Global Entrepreneurship Week, a celebration of all things entrepreneurial meant to inspire more people to pursue their entrepreneurial dreams. The event also includes pieces of content from SPARK sponsors Gowling WLG and PwC.
SPARK 2020 is focused on story-based content on the founder's journey. "Some of the founders are more technical in nature, so they really like to talk about the technology behind it," added Laverty. "The heart and soul of the campaign is around inspiration and why they're doing what they do through entrepreneurship versus doing it in some other way."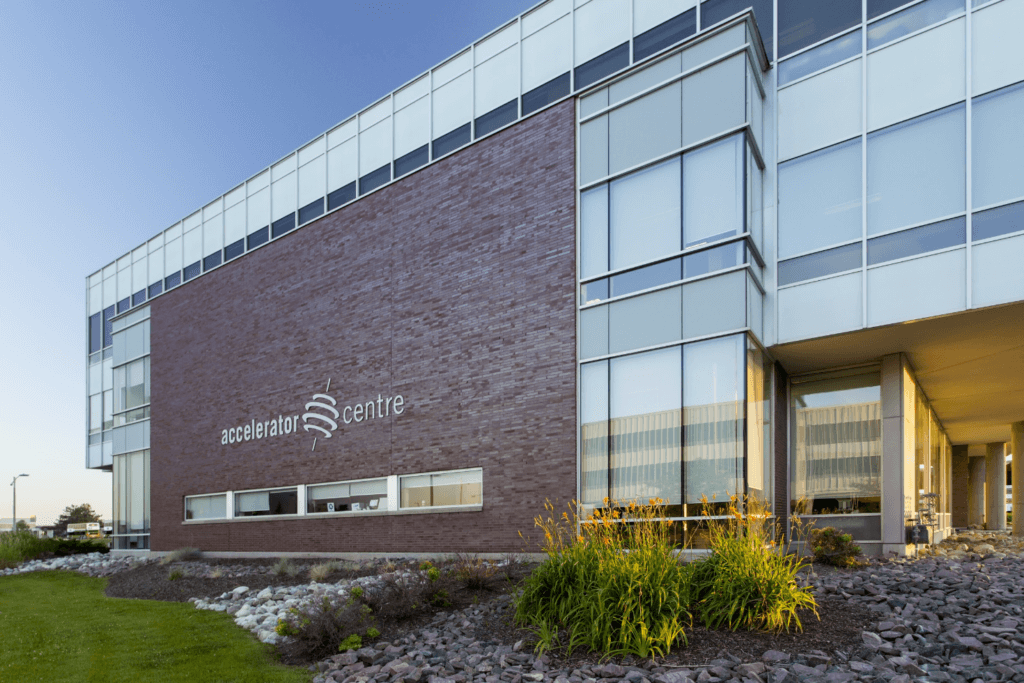 Both Laverty and Accelerator Centre interim CEO John Stevens recognized that many people are tired of attending multiple online events over the last ten months. "Most of our stakeholders have shared with us that they're kind of zoomed out," said Laverty. "Nobody wants to sit in front of another hour of Zoom calls to watch startups pitch."
Taking an online event out of the equation opened up their team to new ideas—and getting back to the basics. "In August, we started thinking about what we can do? We started with the thinking about the purpose of this event—which is celebrating these entrepreneurs and the amazing work that they've done, the risks that they've taken to take on entrepreneurship," Laverty said. Having the showcase as a month-long digital campaign creates multiple opportunities for people to come and learn about a founder's story. The campaign is a mix of written and video interviews with founders. "The core of this is all around their stories," said Laverty. "Highlighting the great work that they're doing and getting it out to as wide of an audience as we can, and without having people in person."
Supporting entrepreneurs and being an entrepreneur requires people who aren't afraid of a challenge. The SPARK 2020 showcase is another example of how R+T Park tenants are tackling COVID-19 challenges with fresh thinking. "We're super excited about it," added Laverty. "It's been quite the journey."