Accelerator Centre announces 14th Cohort of AC JumpStart program
This release was initially posted on the Accelerator Centre's website.
13 southern Ontario-based companies are receiving $30,000 in seed funding and $10,000 of in-kind business support services such as one-to-one professional mentorship under the Accelerator Centre's AC JumpStart program, aimed at helping technology startups establish and grow their business in the region.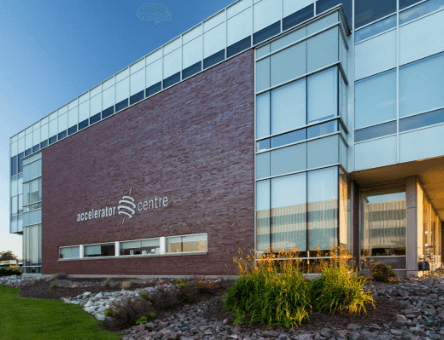 ‍Funded by FedDev Ontario and delivered in partnership with Conestoga College, the University of Guelph, the University of Waterloo, and Wilfrid Laurier University, the program has supported 305 southern Ontario-based businesses since launching in 2015. Former recipients include ApplyBoard, Canada's newest unicorn company after raising $100 million in Series C funding on a $2 billion valuation, and NERv Technology, winner of the world's first Entrepreneurship World Cup and its accompanying $500,000 USD prize.
"This was AC JumpStart's most competitive application round to date, which is wonderful considering we have provided funding to over 300 companies across 13 cohorts over the past five years," says Dr. Paul Salvini, Accelerator Centre CEO. "The program's sustained popularity is one of many indicators that innovation is alive and well in southern Ontario. It's terrific news as we look to strengthen our economy in the wake of the pandemic. As we've seen with past AC JumpStart recipients, these are the up and coming technology companies to watch. We're excited to see what they will achieve during their time with the Accelerator Centre."
RELATED: AC Grad Miovision named CIX 2020 'Innovator of the Year'
‍The AC JumpStart recipients of Cohort 14 are:
Aleri is a cloud platform that streamlines the process of creating cross examination questions for lawyers.
Brighter Future Homes develops living atmosphere control systems to make buildings environmentally safe and self sustaining with built-in phytopurification systems that recycle interior air, reducing operating costs.
Cadera Inc. provides full training to physicians to care for Development Dysplasia of the Hip in infants from beginning to end.
HaulerAds Inc. is the only mobile billboard and truck wrap supplier that incorporates GPS tracking and impression analytics to capture where ads are seen at any given moment, who sees them and how many impressions are gathered.
Instant Autographs Inc. enables fans to purchase affordable, authentic, instant and digitally autographed images and products that are social distancing compliant.
Lightouch Technologies Inc. is a platform dedicated to helping children and adults develop their emotional intelligence by recognizing, understanding and managing emotions.
MedMe Health helps transform pharmacy practices with virtual solutions, online schedulers, and automation tools designed specifically for pharmacies.
Phaxon provides protein purification services through its newly developed protein separation mechanism and instrument, and has the potential to reduce purification times from months and days to hours.
Ponyback Inc. creates ponytail hats that have functional closeable hair openings, built with leading quality standards.
Rekammend's Reka is a software communication platform that leverages a combination of contextual inputs to recommend relevant vocabulary on the client's device.
SUPERVISA is building visa and immigration automation software to streamline the application process, lower costs, and increase scalability to support an expanding sales volume.
Scope Photonics Inc. creates compact lenses for smartphone cameras whose optical power can be changed electrically, allowing for tunable focus and lossless zoom without any moving parts.
VidarDB Inc. enables companies to leverage their data in real time with the world's first unified database system that eliminates the need for installing and maintaining multiple data processing tools, significantly reducing software costs and human capital.
"This was AC JumpStart's most competitive application round to date, which is wonderful considering we have provided funding to over 300 companies across 13 cohorts over the past five years."

Dr. Paul Salvini, Accelerator Centre CEO
‍"When I was first accepted into the AC JumpStart program, I was initially more excited about the $30,000 grant than I was about the included mentor hours. Looking back, it makes me laugh because I didn't realize the incredible valueof mentorship," says Luke Begley, CEO of Circuit IQ, a current AC JumpStart recipient company that created a solution for digitizing circuit directories of electrical panels. "No one is an expert in everything, so it's really nice to have additional people to consult with who are genuinely interested in your product and want you to succeed. I used to think you had to be super human to lead a start-up. Now I realize you just need great mentors."
‍Interested entrepreneurs are encouraged to sign up for updates on future funding opportunities.