A Photovoice Study: Investigating human factors in the evolv1 green office building
A new research project on display at evolv1 in the David Johnston Research + Technology Park aims to give voice to how people think and feel about working in one of Canada's leading sustainable offices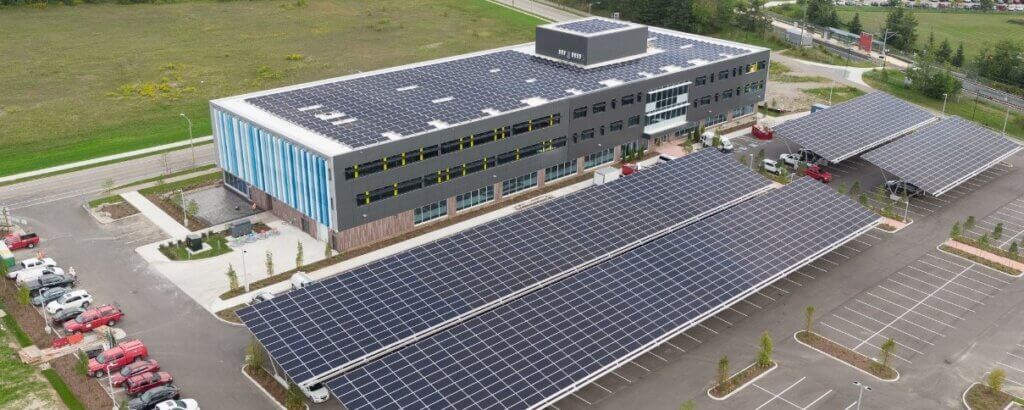 The Photovoice research method combines the strengths of both visual and oral communication, by empowering participants to take photos of their immediate environment and using these photos as prompts for discussion around topics of shared interest. Photovoice projects have now been applied in many places around the world, raising up community voices to share how they feel about a given situation or environment, along with opportunities for action. This current study focuses on two overarching topics: sustainability and wellbeing, and evolv1's influence on participants' experiences of both. The results of this study are now presented in a traveling exhibit including select photos of evolv1, accompanied by tenants' authentic thoughts and suggestions, which has made its journey to Kitchener's THEMUSEUM, and hosted online by Sustainable Waterloo Region, and now an exhibit at evolv1. We are excited to welcome the Photovoice study exhibit to the main floor of evolv1 and welcome tenants to check it out!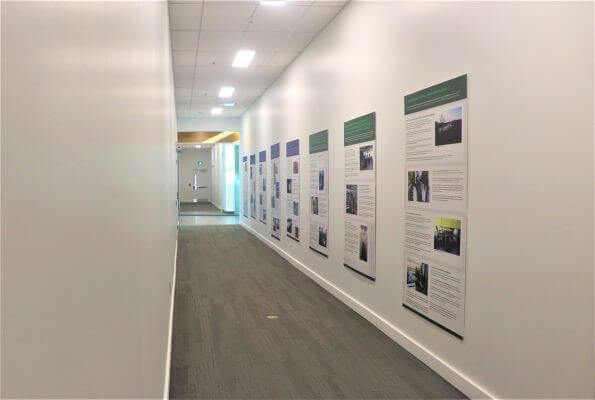 The big question
How is a sustainable building perceived and experienced by the people within it? How does the building impact their own wellbeing, and engagement with sustainability?
The exhibit begins with an introduction inviting readers to embark on an exploration of the "human factors" in evolv1.
Starting in 2020, 6 people currently working at evolv1 were recruited and engaged under the research of Laurier PhD students Kai Reimer-Watts and Esther Abel, working with Dr. Simon Coulombe and the larger research team led by Dr. Manuel Riemer (Wilfrid Laurier University), all part of VERiS. VERiS is an interdisciplinary and community-engaged research centre striving to be a catalyst and nexus for the transition of organizations, communities, and societies toward cultures of sustainability. For this particular study, the six people participating all worked within evolv1, but the study went virtual as the COVID-19 pandemic closed buildings shortly after the study began. Over 200 photos of evolv1 were reviewed in 4 group sessions and 6 one-on-one interviews, around the major research themes.
The takeaways?
How these 6 participants felt within evolv1: A "sense of peacefulness" and "sensory therapy" from the green wall and hearing water trickle through the walls irrigation system. These comments are mentioned a few times along with how the buildings physical location and large windows "promote a different element of wellbeing and mental stimulation" and provide "connection to nature while at work".
Photovoice participants also suggested providing more insight on sustainable building features within evolv1, as some are more hidden. A clear need for improved public education and communication was determined. A need for something that would allow for these hidden features to function more effectively as symbols of sustainability.
Aligned with this suggestion, The Cora Group is excited to be currently working on wrapping up a collaborative building feedback site proposed and completed by the University of Waterloo and Wilfrid Laurier University in partnership with the Cora Group. The collaborative piece not only highlights evolv1 features, but site users can review weekly data on solar electricity generated, rain water collected, overall building energy production vs. consumption and more!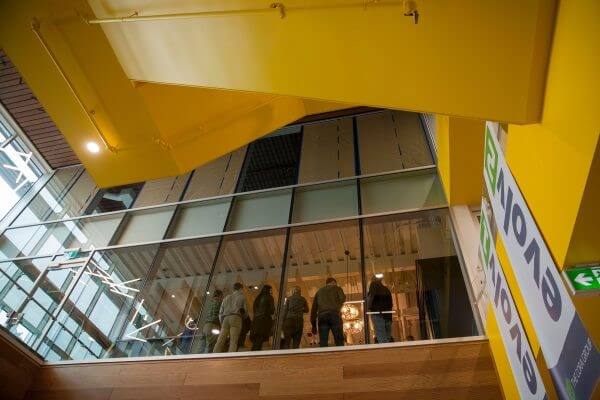 The exhibit hosted in evolv1 is due to the VERiS team's quick suggestion that the final location for the exhibit be in the main floor hallway of evolv1. Participants of "Theme 5" in the study commented on an image of this hallway calling it "sterile". This hallway, thanks to the VERiS research team and the support of The Cora Group is now home to this exhibit and is therefore a very exciting location within evolv1!
We invite you to view the full exhibit within evolv1, or online here, to explore the full breadth of themes and participant reflections that emerged from this important research.
The Cora Group and R+T Park would like to express gratitude to the amazing team: Esther Abel, Kai Reimer-Watts, and Dr. Simon Coulombe for coordinating and leading the evolv1 Photovoice study. Thank you as well to all the participants who offered their time to this valuable research project as well as the VERiS Research Centre and Sustainable Waterloo Region for their ongoing support in growing a culture of sustainability at evolv1. The researchers share special thanks to the Social Sciences and Humanities Research Council, Ontario Research Fund, and Wilfrid Laurier University for their generous support for the broader ongoing research work that this study is a part of.
If you'd like to engage with any of these efforts for sustainability and wellbeing improvements going forward, please connect! For questions regarding the Culture of Sustainability program at evolv1, please contact Tova Davidson at tova@sustainablewr.ca. For questions regarding the evolv1 research project, please contact Manuel Riemer at mriemer@wlu.ca.
If you aren't a tenant of evolv1 and want to experience working in one of Canada's leading sustainable offices, contact
Amanda Lalonde at alalonde@coragroup.com or 226-988-2153.