A Continuing Legacy of Innovation
As Dr. Paul Salvini steps away from his tenure as CEO at the Accelerator Centre, we look back on his journey to Waterloo and his impact on Canada's innovation ecosystem.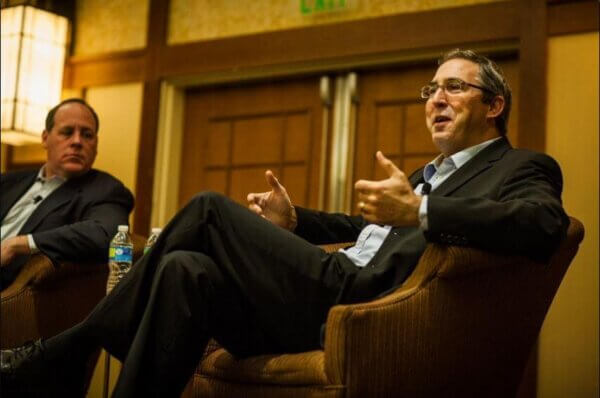 Whether you're in the first years of your career or looking to make that fifth career change, every career path has a starting point. Those starts can be planned out such as working towards a degree in a new field. Other starting points are unexpected – being part of a layoff or a phone call from a former colleague asking you to take a risk on a new project.
With the majority of us, that first career starting point typically happens around high school graduation. You've got options. You've got parents, teachers, friends, and mentors sharing advice and recommendations. It's a lot of pressure and sometimes, you just need to meet the right person who sets you on your journey.
For Dr. Paul Salvini, who is leaving his role as CEO of the Accelerator Centre in the David Johnston Research + Technology Park this month, that 'right person' was a high school teacher. "I ran into an amazing teacher in high school, and it's great that I did," said Salvini. His high school computer science teacher was a graduate of the University of Waterloo and inspired Salvini to look into a computer science degree from Waterloo. "When I was trying to figure out life and had no clue what I wanted to do, it was pretty great that I had sort of this person that I respected and admired," added Salvini. "He went to Waterloo and did computer science, I figured, hey, that's what I'll do."
"On behalf of the University of Waterloo, I would like to thank Paul Salvini for his leadership and dedication to the Accelerator Centre over the last six years. His vision for collaboration within Canada's technology transfer sector has inspired local entrepreneurs, cultivated an ecosystem of innovation, and led the Accelerator Centre to achievements that have attained worldwide recognition."

Charmaine Dean, Vice-President, Research & International University of Waterloo
At the University of Waterloo, Salvini was amazed at the real-time train lab on campus. "You got to control trains and write software, write an operating system to control trains, I thought it was sort of the coolest thing I've ever seen," Salvini said. After graduating from the University of Waterloo, Salvini landed his first role with the Canadian Pacific Railway working on rail traffic control software. "It was developing technology to partially automate the control of train traffic across the country. That was also my first glimpse of how technology could be used to really disrupt an industry and change what was possible."
After the Canadian Pacific Railway, Salvini took a role in Toronto with Metro Toronto Transportation where he worked on the team that developed the city's new traffic signal control system. "That was great because it's still in traffic control, similar problems from a math point of view, but a little bit more complex, because you're adding in the element of humans – and humans are adaptive and unpredictable."
It was in Toronto working on the traffic control system where Salvini started to see the need for better simulation software to help drive improvements. Salvini noticed that it took time for users – drivers, pedestrians, and cyclists – to learn and adapt to the new system. "That got me further interested in the field of transportation engineering and the interaction between how people and things behave."
Working to understand how changes will be used inspired Salvini to work towards a Master's and a Ph.D. in computer simulation at the University of Toronto. "My degree was based on simulating in the transportation field," said Salvini. "Simulating how people behave, how transportation networks behave, and then dealing with those issues."
Salvini's research looked at how short term changes can seem initially beneficial, but also have longer-term negative impacts. "It's really slow to get from Kitchener to Toronto right now. We're going to add in 10 lanes between them and you think that's great – 'Look, I can get to Toronto in 38 minutes now'. But lo and behold, what happens is that everybody decides to move to Kitchener and the housing prices equalize to what they are in Toronto, and soon the 10 lanes fill up and everyone's still commuting for two hours and you're not in a better place."
That fascination with the interplay between short term changes and long term implications was soon put to a personal test with a career change. "I sort of had this life changing moment when that project was over," said Salvini. Calling it the 'most ridiculous reason to join a company', Salvini had seen an ad for a 3D animation and visual effects software company called SideFX and noted that the address was close to his house. "I thought 'Oh, that's cool. I wonder what they do?' and that's what led me to discover this incredible company."
"Paul's impact on the AC has been profound. Under his leadership, we've increased organizational capacity to four times what it was in 2014, launched new programming to support cleantech, hardware, and voice tech companies, and expanded into 4 facilities; becoming the #1 private business accelerator in Canada.

His vision has transformed the way we support startups and set new global standards for accelerator programming; one focused on meaningful mentorship and high touch programming that provides specialised support and industry expertise. Paul's legacy is one of a truly community focused leader that has always put people first. He truly leaves behind an AC forever changed by his leadership and well positioned to continue making an incredible impact."

John Stevens, Interim CEO & VP, Strategy and External Relations, Accelerator Centre
During his fifteen years at SideFX, Salvini helped the company grow to be one of the film and television industries most important software companies. "As the CTO leading this initiative to develop tools for visual effects companies, who are creating films, it was probably the most amazing experience of my life, for sure. Because it was an incredible time in that industry, where it was all about what was possible."
In addition to his duties at SideFX, Salvini was also teaching and volunteering his time on expert panels. "One of the expert panels was when Communitech was making its pitch for what would ultimately become the Canadian Digital Media Network (CDMN)," Salvini said. "That's actually where I met Gerry Remers, the President and COO at Christie Digital and where I first heard the story of Kurtis McBride and Miovision and the Accelerator Centre."
Even though Salvini had attended the University of Waterloo, it was those conversations with Remers and others that helped him discover what was happening in the tech community in Waterloo. "It wasn't like this when I was in school, how the University is now thought of as an entrepreneurial hotspot."
The willingness to volunteer time and mentorship inspired Salvini. "When I heard about Gerry and his work and mentoring startups, I thought how incredible it is that you have this community where someone running a very significant company like Christie Digital would be willing to spend time to mentor and guide startup companies."
"Paul's 6-year tenure at the AC has been an asset to the community. From bringing more intensive supports to hardware and cleantech companies to helping bridge the gap between research and commercialization, his contributions have made a lasting impact to the innovation ecosystem.

As the role of business accelerators continues to evolve and they become an even more important part of the community, particularly in light of the COVID-19 pandemic and recovery, the AC is well positioned to succeed because of Paul's years of leadership. We're looking forward to seeing what is next for him as he continues to support Waterloo Region and the tech community in new ways."

Julie Barker-Merz, Board Chair, Accelerator Centre
Over the next few years, Salvini would have more opportunities to speak with Remers, McBride, and others. "I thought, if I ever had the chance to work with Gerry, I would," said Salvini. And that's exactly what happened. "There was a CTO opening at Christie Digital, and a chance to work with Gerry. That's what brought me back to the community."
After three years at Christie Digital, the opportunity to lead the growing Accelerator Centre opened and Salvini jumped at the chance. "That's what got me to the Accelerator Centre and this philosophy the importance of bringing business and technology and creativity together. Making sure that companies don't just think that innovation is technological innovation," said Salvini. "They really have to understand business innovation, business model innovation, and things like that."
During Salvini's tenure, the Accelerator Centre has grown from supporting 35 companies at a time to over 120 companies. "Even before me, it was always a great program," said Salvini. "It has certainly grown in terms of the number of clients we serve. What hasn't changed is the quality of the clients that we work with." Salvini described the Accelerator Centre as a special purpose incubator that works with the highest potential clients in Waterloo Region.
"Nobody's figured out how to make bets on which companies will be successful. If we were just great at picking winners would be wildly rich venture capitalists or angel investors." Salvini said that instead, the Accelerator Centre is focused on creating winners. "It's not about taking any credit away from the founders. It's about creating an environment that will allow the founders to build winning companies.
It's an environment that has the right conditions to nurture, inspire, and guide founders and companies to being more likely to do the right things that lead to growth. "Bold moves and the right kinds of risk taking," added Salvini.
As with the University of Waterloo and R+T Park, the Accelerator Centre building itself is also important in many ways. Drive around the R+T Park today and you'll see signs on the offices of Accelerator Centre graduates including TextNow, SSIMWAVE, and more. "That's not only enormously rewarding for us, it's incredibly inspiring for the entrepreneurs who are going through the program to see that there's a real company that emerges," said Salvini. "When you're a young founder, it's hard to imagine your company having a giant sign on the side of a building. Being able to see those tangible representations is really, really important."
"Paul's contributions to Canadian technology are incredibly broad and globally impactful. From transportation management to visual effects to mentoring founders, Paul has left a unique and indelible mark on the landscape of Canadian tech that will be felt for many years. The Accelerator Centre has thrived under Paul's leadership, and his support as I have transitioned from working with him at the AC to leading R+T Park has been very meaningful."

Mike Pereira, Manager, R+T Park
So what's next for Salvini? "The first thing I want to do is to deploy capital within the startup companies – that's something I wasn't allowed to do as CEO of the Accelerator Centre. I think one of the biggest challenges for our companies today, especially with COVID, is access to capital at the right time. And so by having some local capital, more local capital, I think that would be quite useful."
Salvini is also planning to spend more time supporting community organizations as a board member. "I'm the chair of the Centre in the Square. It's one of those industries that was hardest hit by COVID. There have been no shows, and there's no end in sight to that. Helping that organization move through this, and find creative ways to still connect and serve its mandate is really important to me."
The other area of focus for Salvini is the Grand River Conservation Foundation. "I've taken on the role of Vice Chair of the Grand River Conservation Foundation recently," said Salvini. "Most people think that the conservation authorities are just funded by the government. Unfortunately, that's not the case. We still rely on private donations and the public to be part of conservation and part of helping to take the incredible natural resources and land that we have and do the right things with it."
"I'm sad in some ways to step away from the Accelerator Centre given the incredible place it's in right now," said Salvini. "But I think it couldn't be in a better place. And so it's actually a really good time to hand that over to someone to take it to its next logical place. For us to succeed as a community in a significant way, we need to make sure that we are creating bold companies that are willing to take risks and challenges. I think it's time for some big dreams and for our community to figure out how to support those entrepreneurs that do have big dreams to have them come to life here in Canada – and here in Waterloo Region."